Sustainability Performance
GOVERNANCE

NT$ 20.853 billion

Revenue reached
a record high

NT$ 4.474 billion

Profitable for 12
consecutive years

EPS of NT$ 10.59

Record high EPS

Recognized
in the top 5%

Ranked among
TPEx-listed companies in
Taiwan in the corporate
governance evaluation
for five consecutive years

ENVIRONMENT

Reduced electricity
consumption

1,419,347.4

kWh

Reduced natural gas
consumption

66,388

m3

Reduced carbon
emissions by

914.94

tonCO2e

Recycled

199,245

tons of water

NT$

284,129

thousand

All

PERFORMANCE
GOALS

were attained

SOCIETY

0 cases

Complaints
regarding
violation of
human rights

80% and above

Retention rate after
parental leave for 3
consecutive years

NT$ 3,110,020

Value talent cultivation and
provided scholarships at
three schools

NT$ 27,191,335

Total investment in social
engagement
NT$ 20.853 billion

Revenue reached
a record high

NT$ 4.474 billion

Profitable for 12
consecutive years

EPS of NT$ 10.59

Record high EPS

Recognized
in the top5%

Ranked among
TPEx-listed companies in
Taiwan in the corporate
governance evaluation
for five consecutive years
Reduced electricity
consumption

1,419,347.4

kWh

Reduced natural gas
consumption

66,388

m3

Reduced carbon
emissions by

914.94

tonCO2e

Recycled

199,245

tons of water

NT$

284,129

thousand

All

PERFORMANCE
GOALS

were attained
Implemented 7 energy
conservation and carbon
reduction measures
Implemented 11
water conservation
projects
Environmental
protection
capital
expenditures
Electricity consumption,
PFCs emissions, water
consumption, waste
solvent volume, and
general solid waste
volume
0 cases

Complaints
regarding
violation of
human rights

80% and above

Retention rate after
parental leave for 3
consecutive years

NT$ 3,110,020

Value talent cultivation and
provided scholarships at
three schools

NT$ 27,191,335

Total investment in social
engagement
Awards, Recognition and Ratings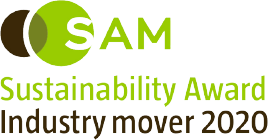 In the 2019 assessment items of the CSA (SAM Corporate Sustainability Assessment), WIN received high scores for innovation management, business ethics, customer relationship management, supply chain management, and corporate citizenship. We were thus selected as an Industry Mover in the Sustainability Yearbook 2020 published by S&P Global and RobecoSAM.
Recognized with the
Green Procurement
Enterprise Award from
Taoyuan City.

Ranked in the Top 5%
of TPEx-listed
companies in Taiwan
in the 5th Corporate
Governance
Evaluation.

WIN was awarded the
"Health Initiative Mark"
by Health Promotion
Administration, Ministry
of Health and Welfare.