WIN cares about climate and environmental protection issues, complies with regulatory requirements, and continues to dedicate efforts to reduce carbon emissions and reduce our environmental impact. WIN has adopted a corporate sustainable development philosophy that supports environmental protection and green production and we continue to supervise and improve emissions reduction measures for energy management, greenhouse gas emissions management, air pollution control, water resource management, and effluents and waste management. We implement these measures and work hard to reduce the impact of the production process on the environment in accordance with our policy. WIN's fabs are located in technology parks and industrial park, and our operations do not dependent on ecosystems and abiotic services. Thus, we don't have to consider any risk related to biodiversity and deforestation.
To fulfill our commitment to environmental sustainability, we have adopted management systems and certifications related to the environment, and obtained environmental management system certification (ISO14001) and greenhouse gas certification (ISO 14064). WIN actively participates in the selection of exemplary environmental protection personnel by the Environmental Protection Administration and makes a concerted effort to protect the environment. WIN makes plans to promote environmental education to enhance employees' concept of environmental protection and a green lifestyle. We also plan to design green fabs and green buildings for new fabs in the future to reduce our environmental impact.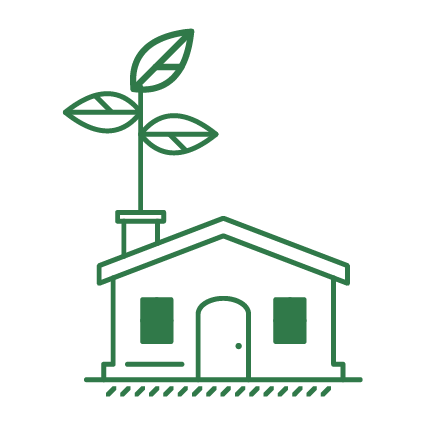 1,994,885
kWh Reduced electricity consumption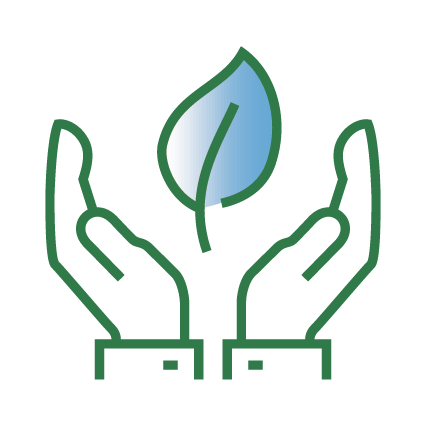 1,570
ton CO2e Reduced carbon emissions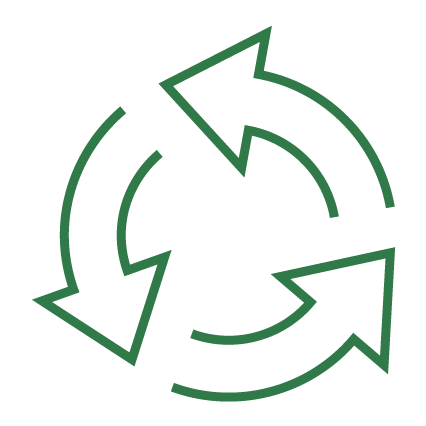 263,941
tons Recycled water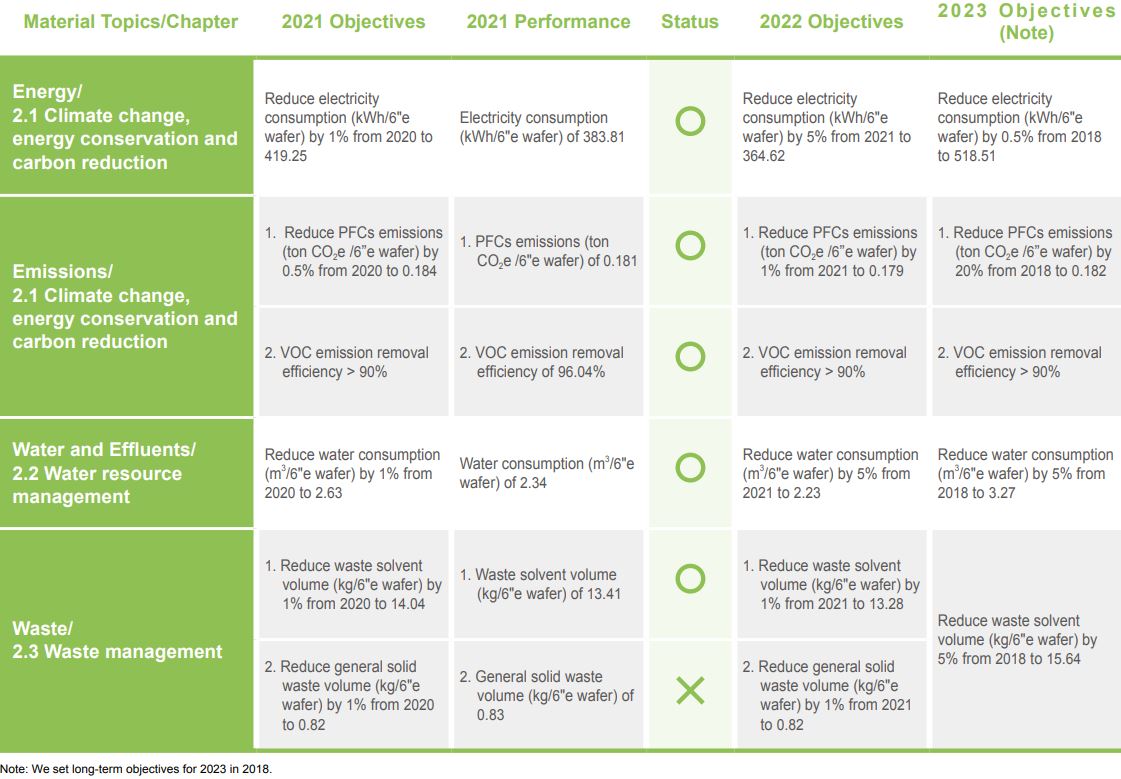 Climate Change and Greenhouse Gas Management
more
In response to global climate change and low-carbon transition, WIN actively pays attention to the risks and derived opportunities that climate change may bring. With the support of Director on board and senior executives, WIN assembled members of related departments and established the Task Force on Climate-related Financial Disclosures (TCFD) team to establish mechanisms and strengthen operations, and formulate strategies and actions in response to climate change based on four aspects: governance, strategy, risk management, and metrics and target. We identified potential risks that may threaten the Company as well as opportunities and the impact of climate-related risks and opportunities on the Company, and regularly review quantitative targets and performance indicators.
Task Force on Climate-Related Financial Disclosures (TCFD)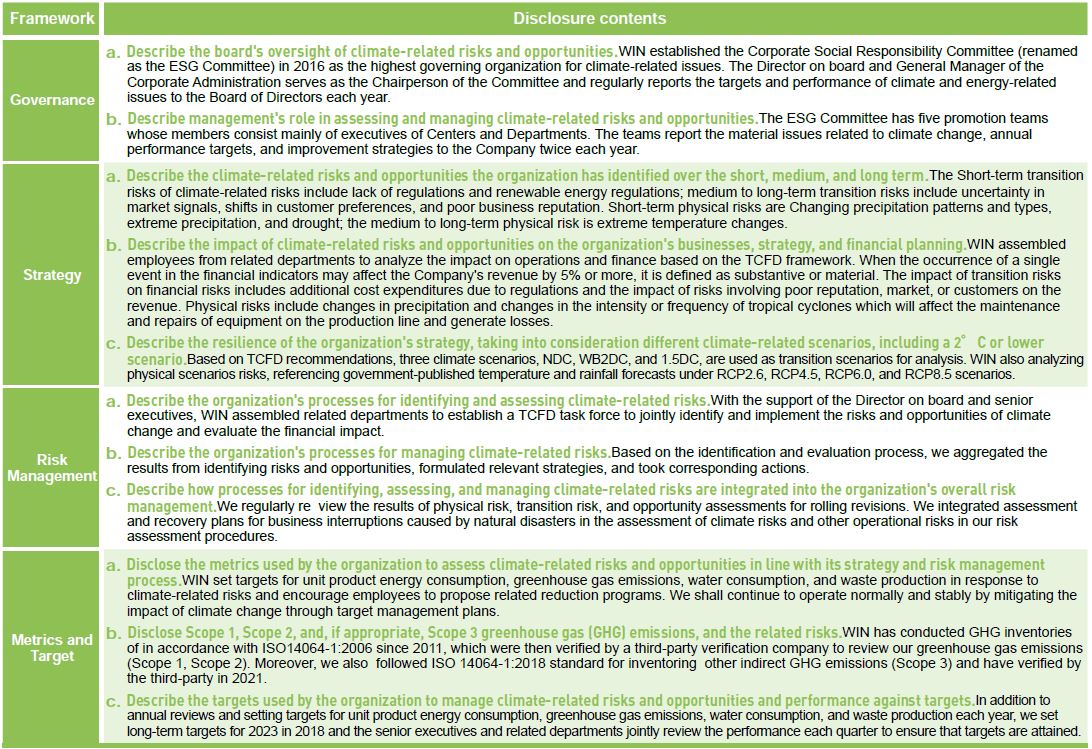 In 2021, the TCFD team identified 31 climate change risks, of which 25 were related to the Company and 9 were included as risks of concern, and 22 climate change opportunities, of which 13 were related to the Company and 9 were included as opportunities of concern. WIN identifies risks and opportunities to monitor conditions in the fabs and set related energy conservation and carbon reduction targets. We encourage departments to propose carbon reduction, water conservation, and waste reduction plans and develop energy-saving products and services to mitigate global climate emergencies and create a corporate culture of environmental sustainability. Units with outstanding performance can receive incentives each year and take part in the Company's Innovation Service, and Efficiency Awards with total rewards amounting to NT$1.7 million. In addition to the risks and opportunities of our fabs, we disclose data and information on climate issue management and carbon emissions by actively responding to the climate issue questionnaire of the Carbon Disclosure Project (CDP) and the Dow Jones Sustainability Indices (DJSI).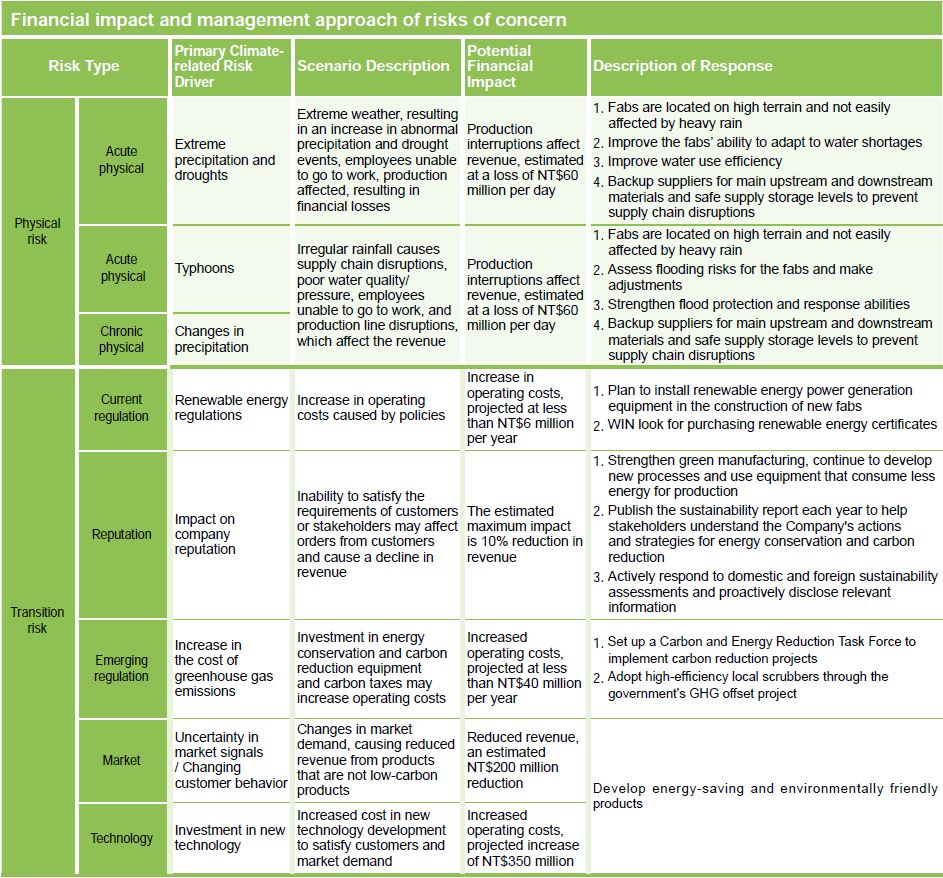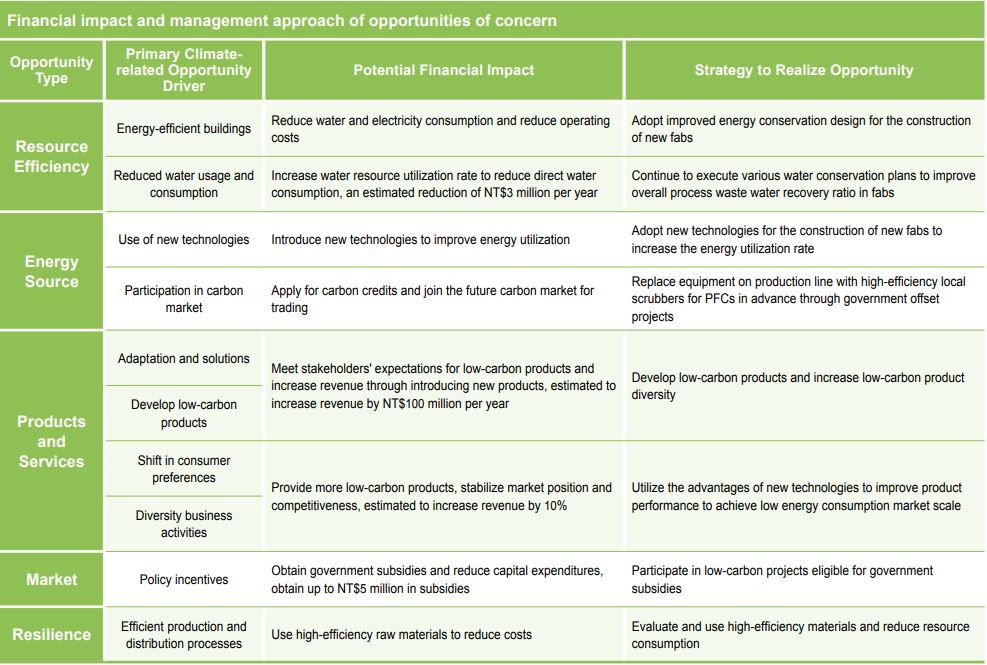 Greenhouse Gas Management
Greenhouse gas emissions are the main cause of climate emergencies. Corporate greenhouse gas management is a main issue of concern to stakeholders. Since 2011, WIN established a standard for GHG inventories in accordance with ISO 14064 and the Guidelines for Greenhouse Gas Inventories by the Environmental Protection Administration of the Executive Yuan. We regularly inventory the greenhouse gas emissions of our fabs every year and pass third-party verifications. SGS Taiwan Ltd. conducted the inventory in 2021 to fully understand WIN's greenhouse gas usage and to verify the results of reduction. WIN has employed operational controls to set the inventory boundary, covering the management processes and facilities at all fabs (Fab A, Fab B, and Fab C). The greenhouse gases covered by the inventory are: CO2、CH4、N2O、HFCs、PFCs、SF6、NF3. The plants used zero ozone-depleting substances (ODS).
Direct and Energy Indirect Greenhouse Gas Emissions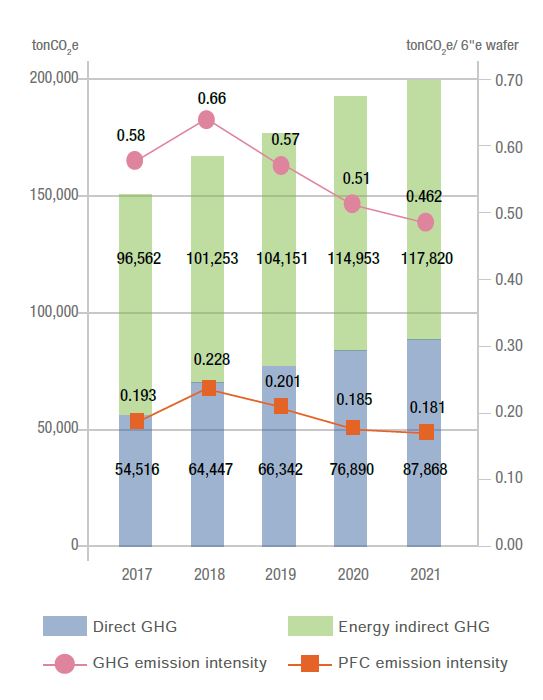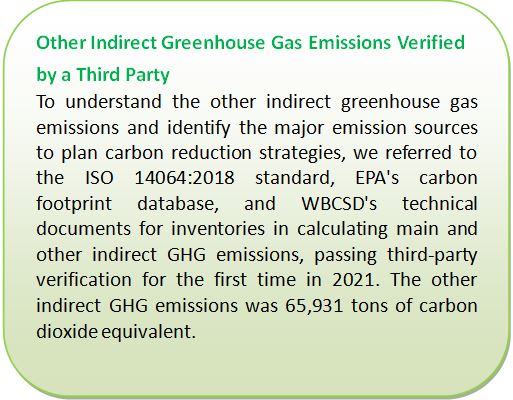 GHG Reduction Strategy
In 2021, in response to stakeholders' expectations, the Company will strive to achieve net zero. With the support of Director on board and senior executives, we established a Working Group for Carbon and Energy Reduction, chaired by the Deputy General Manager. We hold quarterly meetings to discuss, review the implementation status and future plans, fully promote the greenhouse gas and energy reduction plan, and implement the Company's net zero plan.
2021 Emissions Inventory Results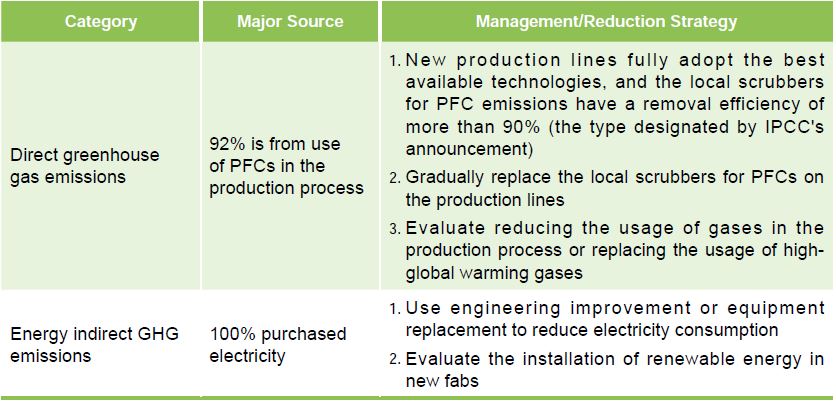 We conducted many energy conservation carbon emissions reduction plans in 2021 and saved approximately 1,994,885 kWh of electricity and 1,570 tons of CO2emissions. The plans are briefly
described as follows: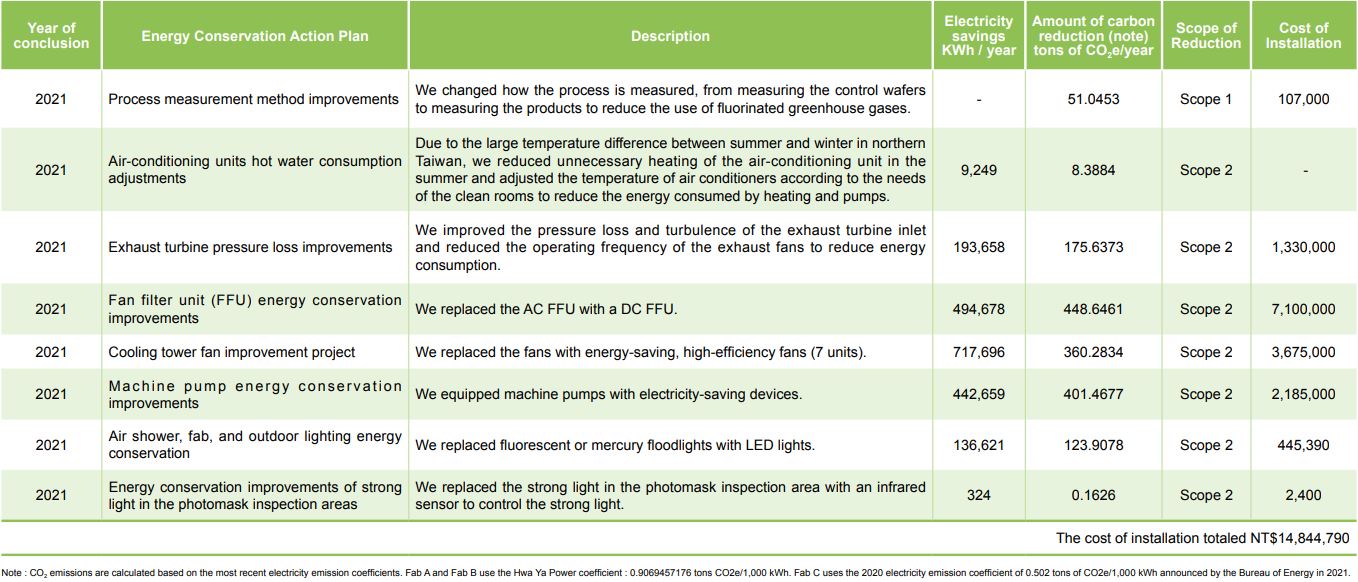 Water Resource Management
more
Water used in all WIN"s plants is sourced from the catchment area of Shihmen Reservoir. The Reservoir has suffered from sludge issues in recent years which reduced its capacity and number of water supply days. To ensure stable mass production, WIN is bound to face the pressure of future water supply and must adopt good response measures for water management to protect operations and growth. WIN uses the water storage capacity information provided by the Shihmen Reservoir Administration to allocate water supply and optimize operations. In addition to maintaining stable water supply for all plants, we also seek to prevent the impact on water shortage areas during droughts. We also continue to increase the amount of recycled water in the fab and actively evaluated the feasibility of participating in the "water reclamation project" of the Water Resources Agency to reduce the possibility of water shortages in the fabs during the dry season.
WIN is committed to promoting source reduction, water resource reuse, and water pollution prevention to achieve the goal of "water resource sustainable cycle and reuse". We aim to stabilize supply of water resources and gradually improve overall water resource usage rates each year.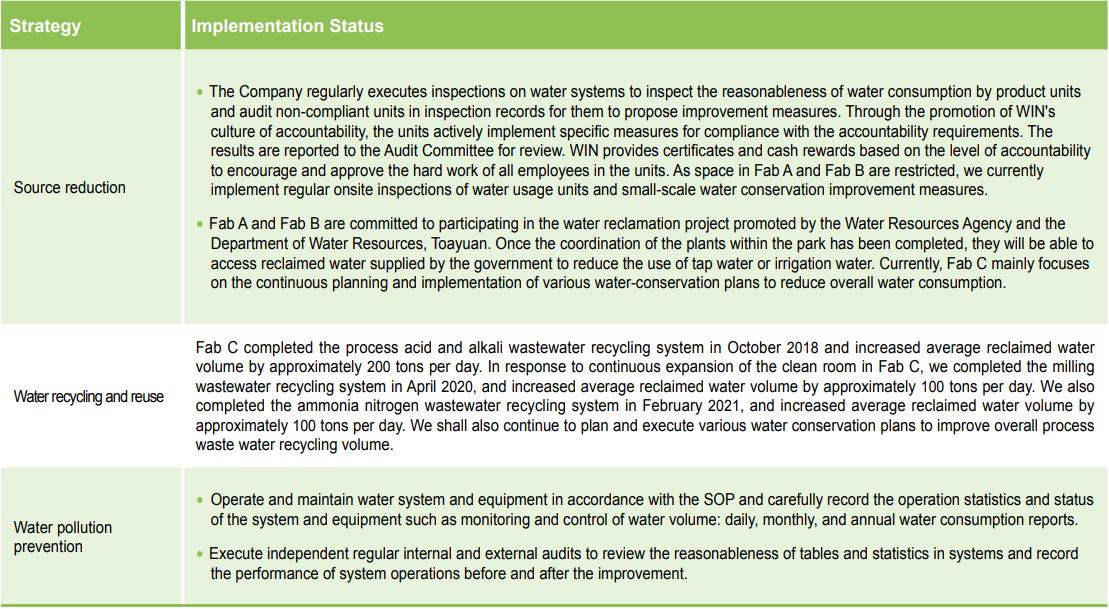 Water Consumption
Water consumption is total water withdrawal minus total water discharge. The main cause of water consumption was evaporation and spray from the cooling water tower. Other causes of water consumption include employee drinking water, cafeteria cooking water, product production, and evaporation from water tanks (water storage system).
Statistics of water consumption (Unit: Million liters)

Water withdrawal per unit area of wafers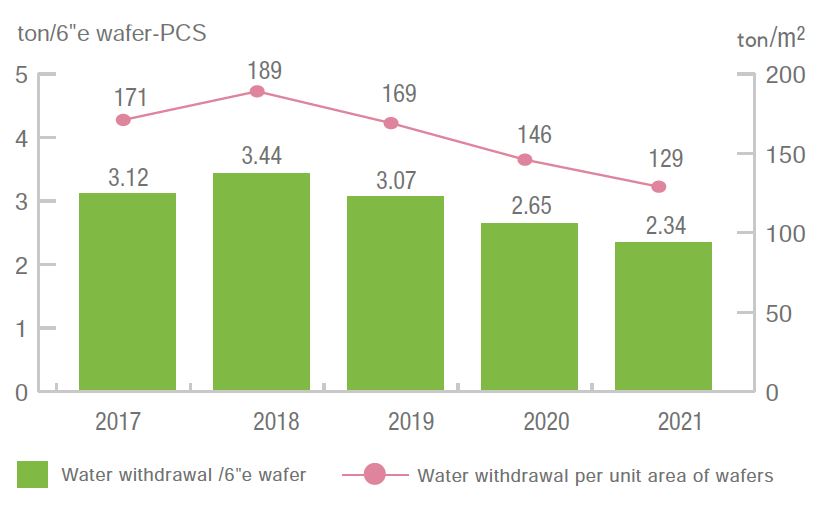 Water Conservation Plan and Results
WIN has continuously implemented various water conservation plans since 2010 and gradually improved overall water recycling rate. The recycled water volume in 2020 was 233,813 tons/year (recycling rate of 23.37%). The reclaimed water volume in 2021 increased to 263,941 tons/year, up 30,128 tons/year compared to 2020, and the water recycling rate in 2021 increased by 1.95% compared to 2020.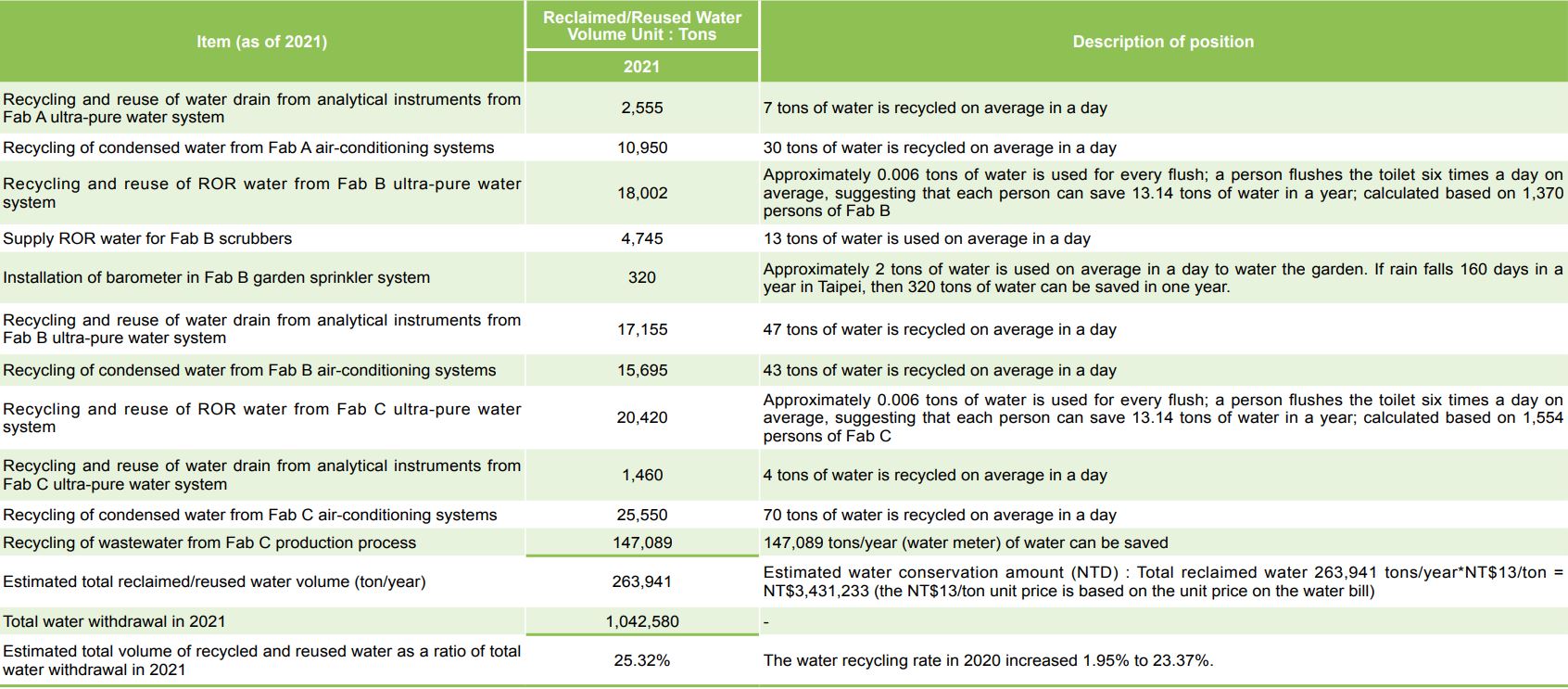 WIN actively implements source management and waste recycling, encourages every department to propose management plans for reducing process materials to reduce waste or waste liquid, to achieve our annual objective and realize our commitment to zero environmental pollution. For waste produced by the fabs, our first choice of waste vendors is using recycle and reuse, such as precious metals and chemical liquid waste. Precious metals can be recycled to raw materials, thereby improving the value of recycling renewable resources and reducing the impact of waste on the environment.
In 2021, WIN produced a total of 7,378.99 tons of waste, which can be divided into hazardous industrial waste of 5,133.53 tons and non-hazardous industrial waste of 2,245.46 tons. Waste disposal methods include diverted from disposal (recycle, reuse, etc.) and directed to disposal (incineration, landfilling, etc.). The disposal methods of hazardous and non-hazardous industrial waste are by proportion. Of the non-hazardous industrial waste, 399.33 tons is general solid waste. 88.60 tons of the general solid waste were recycled and reused, and 310.73 tons were disposed of through incineration with energy recovery.
For handling waste, WIN emphasizes recycling and reuse. We commission vendors who give priority to recycle and reuse. 6,272 tons of waste was recycled in 2021. If we include the recycling method of incineration with energy recovery, the total amount of waste recycled is 6,844 tons and the recycling rate is 93%.
Waste data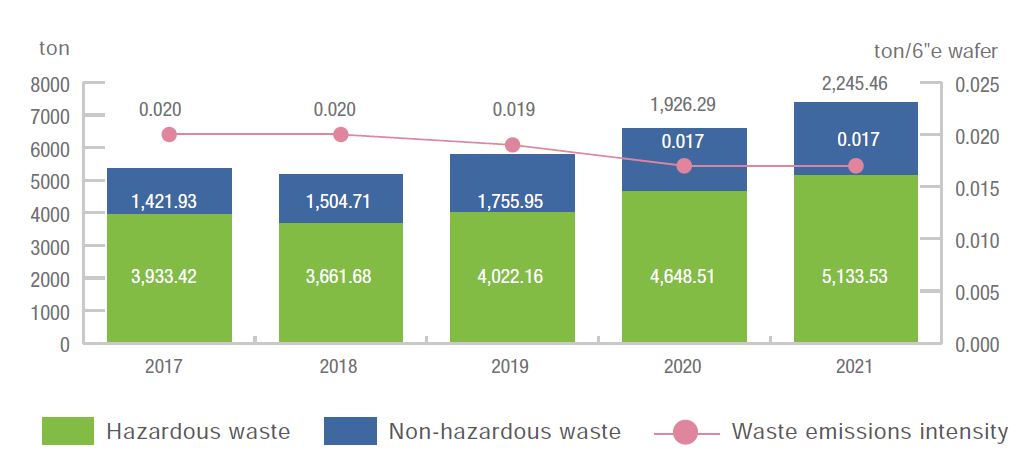 Hazardous waste treatment methods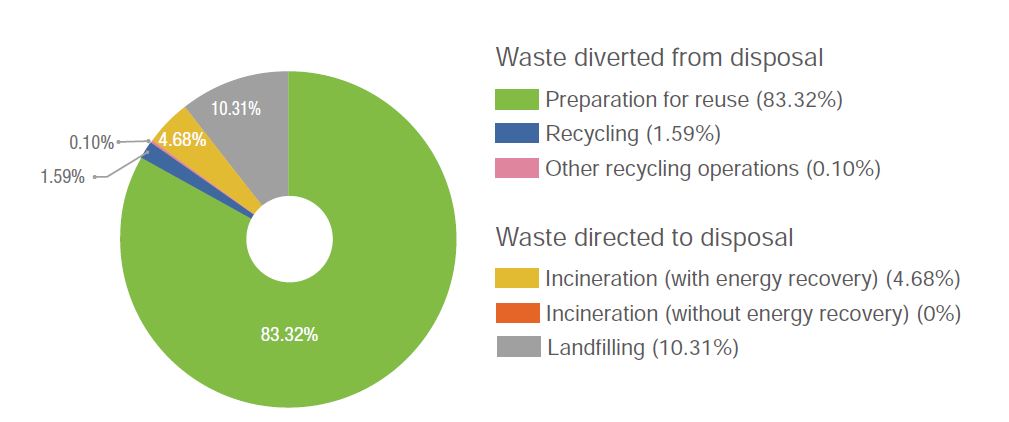 Non-hazardous waste treatment methods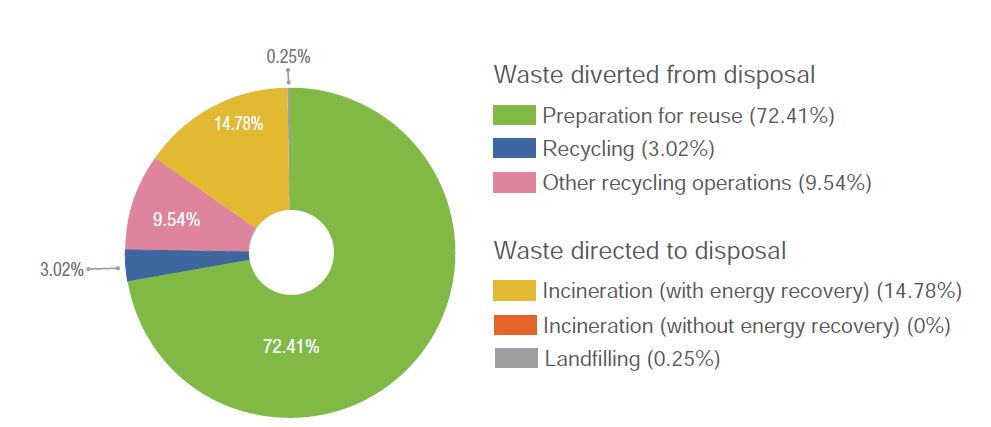 For more information, please read full article
Download
Environment
Sustainability