WIN offers competitive salaries, training programs, and incentives. We develop employee expertise and essential competency according to the Company's business strategy and development. WIN promotes various educational activities and implements talent development projects to attract and retain all types of talent to grow and develop together with the Company.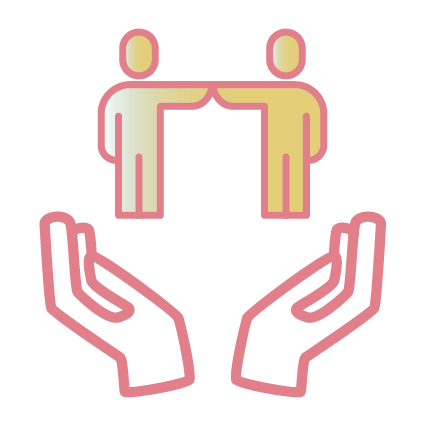 0 cases Complaints regarding violation of
human rights.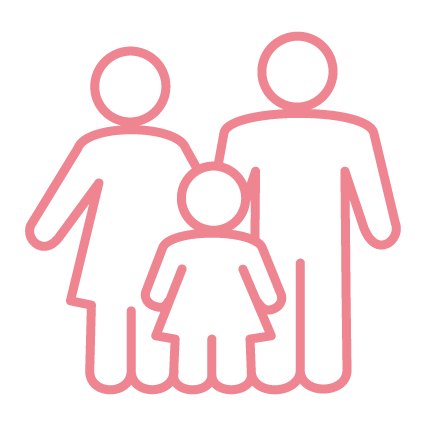 1,011 persons Number of children who benefitted from childcare subsidies as of the end of 2020.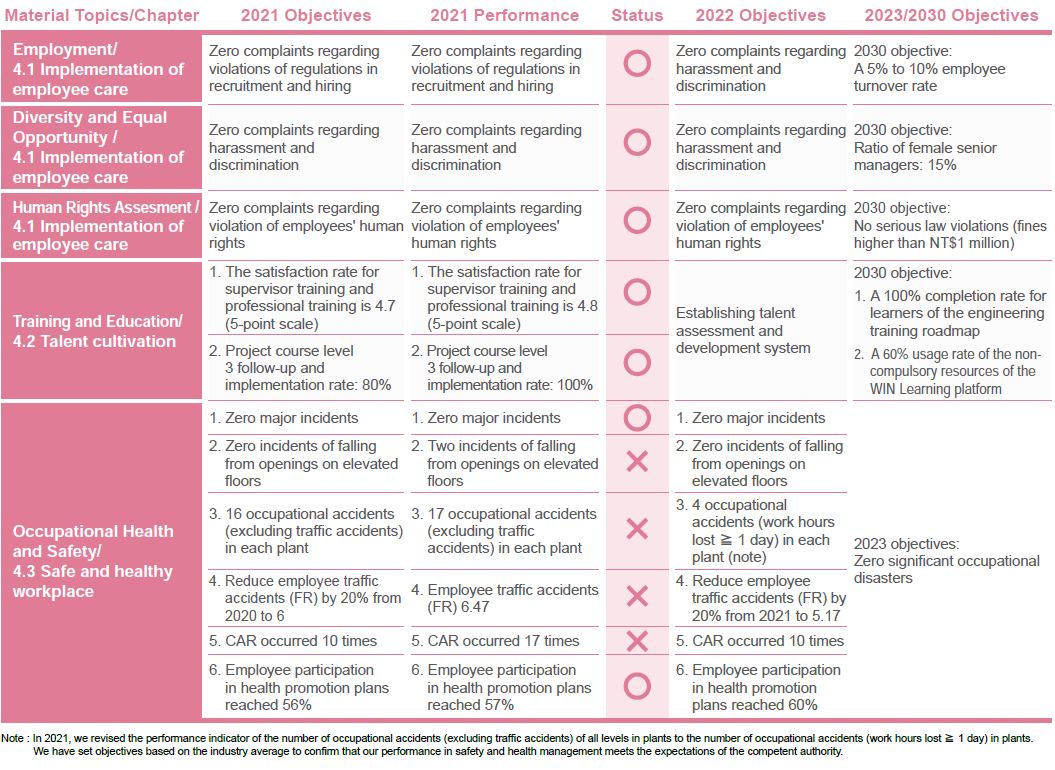 WIN organizes regular events and encourages employees to participate in club activities to provide them with diverse channels for relaxing their bodies and minds, balance work and life, and lead healthier lives. They can also form better relations with colleagues, family members, and local communities through participation in events.
Great Benefits and Compensation
Item
Employee compensation
Quarterly goal achievement bonus
Retention bonus
Bonus as recognition of skill
Diverse incentive bonuses or gifts
Shareholding trust
More Benefit Measures
Complete insurance system and retirement plan.
Leave policies superior to statutory requirements: Once new employees pass a review after three months' service, they may take 4 days of new hire leave (superior to provisions in the Labor Standards Act) + 3 days of statuary special leave.
The Company provides free regular health examinations for employees, clinic services provided by professional doctors in the Company, and various employee health promotion knowledge promotion and events.
Employee meal subsidies, dormitory, and shuttle bus.
Distribution of birthday gift money, Labor Day gift money, and Dragon Boat Festival/Mid-Autumn Festival/Chinese New Year shopping gift money, year-end party lucky draw, and employee party funding subsidies.
Employee marriage, funeral, hospitalization, and childbirth subsidies as well as relief funds based on employees' urgent needs.
WIN began providing employees with monthly parental subsidies of up to NT$5,000 for each child under the age of 7.
Pension Fund Appropriation Status
| Retirement Plan | Appropriation Status | 2020 Results |
| --- | --- | --- |
| Appropriated in accordance with the Labor Standards Act | Pension is calculated based on the employee's years of service and the average salary in the six months prior to retirement. The Company contributes pension reserve equivalent to 2% of the employees' salary each month to a special account in Bank of Taiwan. | The Company commissions professional actuaries to calculate pension reserve funds to ensure that full coverage of pension is reserved. As of December 31, 2020, the fair value of plan assets was NT$47,690 thousand. Future amounts of pensions that need to be paid as required by law have been included in the pension liability. The balance as at the end of 2020 was NT$110,883 thousand. |
| Appropriation based on the Labor Pension Act | The Company appropriates pension funds equivalent to 6% of the employee's salary to the dedicated personal pension account of the Bureau of Labor Insurance. | The number of years worked by employees hired before July 1, 2005 shall be reserved. The amount of pension expenses in 2020 totaled NT$107,894 thousand. |
Human Right Promotion
more
To protect the rights of all workers, WIN abides by all regulations of the Labor Standards Act as well as benchmark international human rights standards such as the "UN Guiding Principles on Business and Human Rights", "Declaration on Fundamental Principles and Rights at Work" of the International Labour Organization, and the UN Universal Declaration of Human Rights. In addition, we also adopted the Code of Conduct established by the Responsible Business Alliance (RBA) as the basis of internal management to protect the human rights of WIN's employees.
Our human rights management standards are established in the following regulations:
1、Organize employee/employer meetings in accordance with the "Regulations for Implementing Labor-Management Meeting"
WIN fully respects employees' freedom of association and we currently have no union organized by employees. However, an employee/employer meeting is held every quarter. Fourteen representatives each are appointed by employees and the Company. An employee grievance mailbox has been set up to discuss related issues once they appear and prompt effective and fair communication to promote harmonious labor-management relations and to find mutually beneficial solutions.
2、Established t he "R egulations f or E stablishing Mea sures o f Pr evention, Correction, Complaint and Punishment of Sexual Harassment at Workplace"
To protect the rights and privacy of parties involved.
3、Established the "Corporate Social Responsibility Announcement"
WIN is committed to protecting employees' human rights and making employees feel respected and dignified. We also maintain the environmental security of all work areas and be responsible for all business activities. This Announcement includes five parts — labor, health and safety, environment, code of ethics, and management system. In this document, we commit to human rights issues, including the prohibition of human trafficking, forced labor, child labor, discrimination, and harassment. We provide fair and appropriate work opportunities and establish a friendly workplace environment based on the principle of equal pay for equal work. We also protect employees' freedom of association and rights to collective bargaining.
4、With the " WIN Supplier Code of Conduct"
The Company hopes to examine human rights issues with a m ore positive attitude and a br oader perspective through communication and cooperation with our suppliers. We also take our responsibility seriously when it comes to social and environmental issues.
Human Rights Risks Identified by WIN and Mitigation Measures
WIN referenced the RBA and health conditions of the workplace environment to assess human rights risks. Related departments periodically assess the effect of risk items on employees. The scope covered all of WIN's three fabs and we identified 12 human rights risks in 2020. Besides implementing mitigation measures for all risks, we also formulated compensation measures for items with medium risk and above.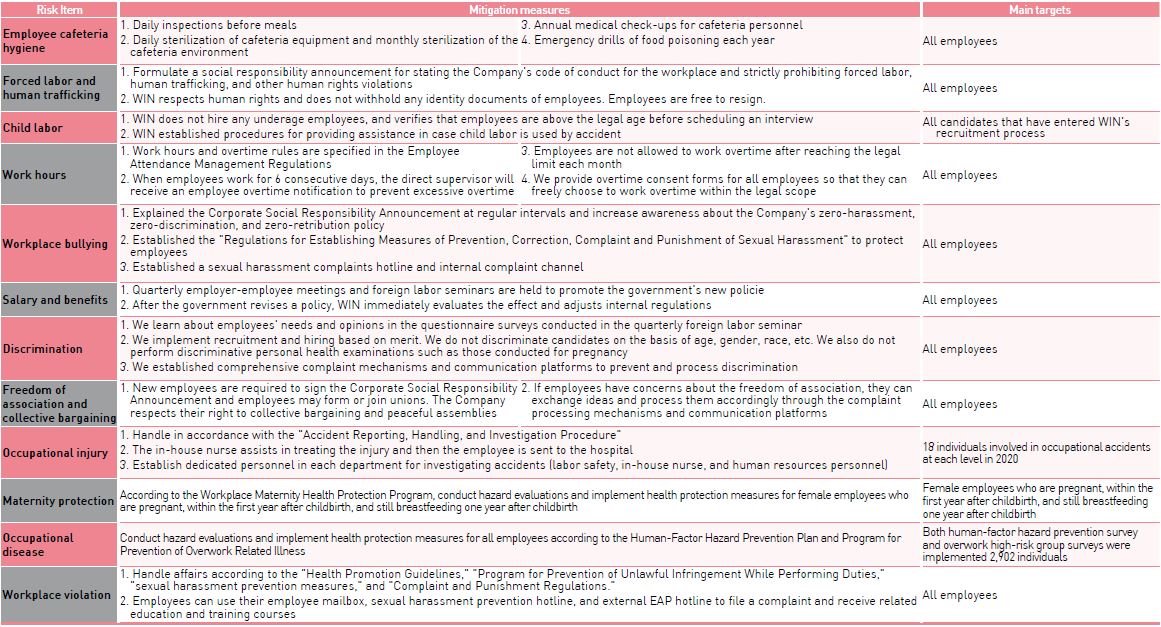 Human Rights Risk Matrix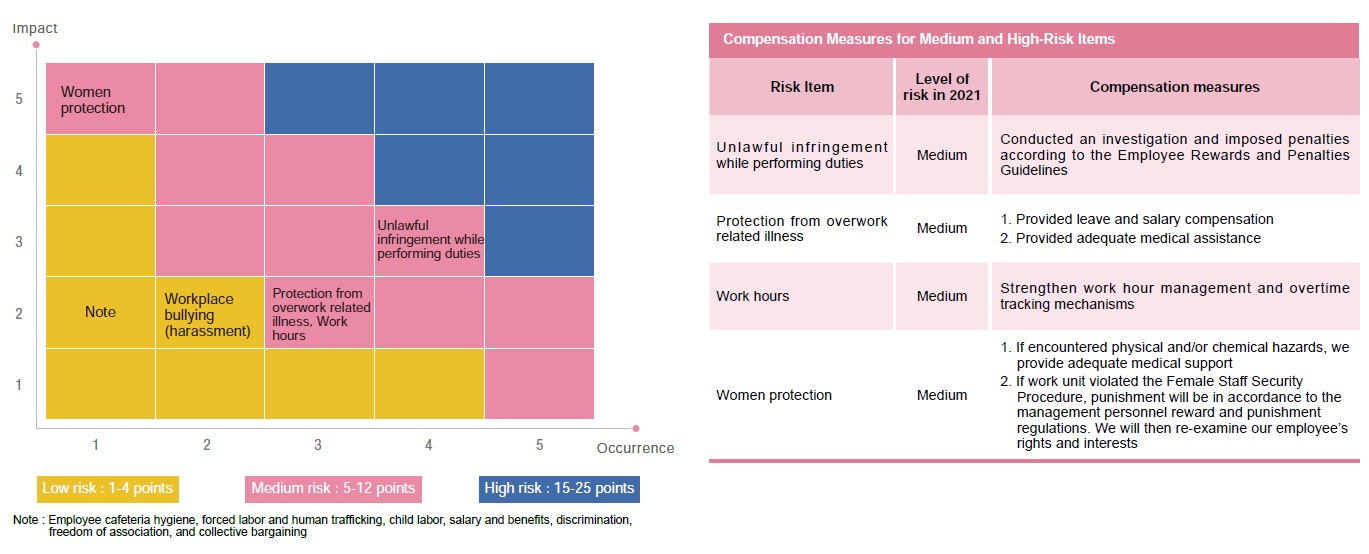 Note: Employee cafeteria hygiene, forced labor and human trafficking, child labor, salary and benefits, discrimination, freedom of association, and collective bargaining.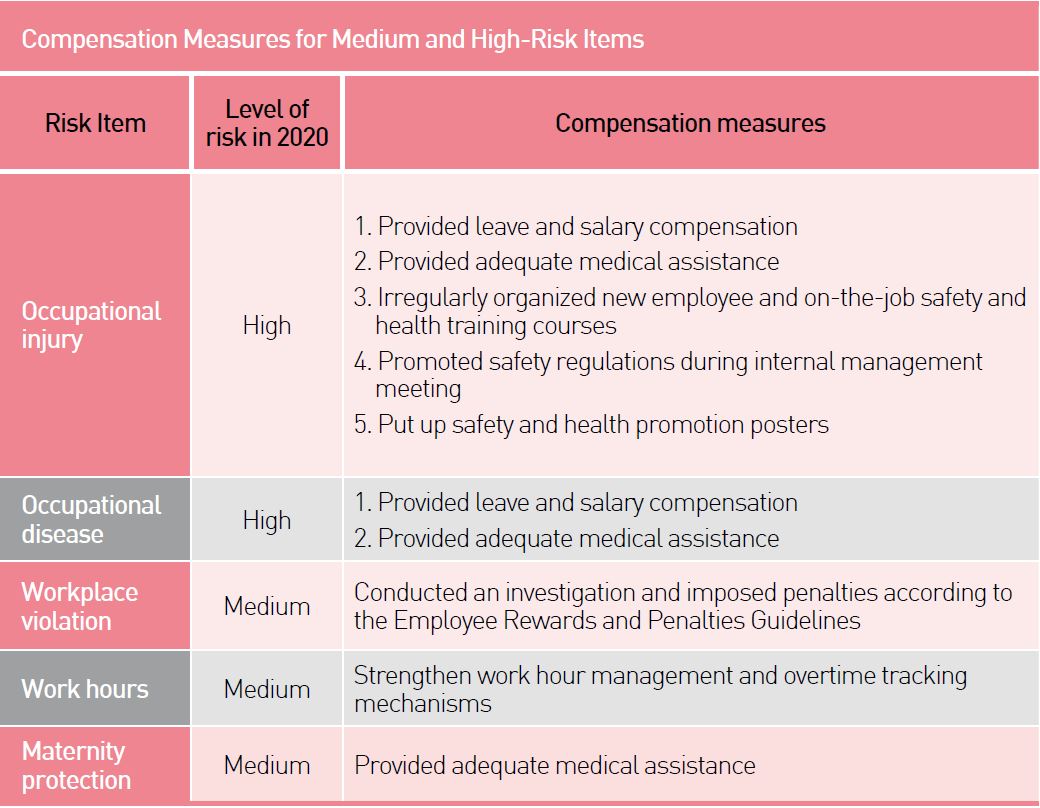 Human Rights Policy Training
WIN references international human rights standards and trends to regularly update and review the internal Corporate Social Responsibility Announcement. We implement training and awareness campaigns each year to meet international human rights standards and continue to protect employees' rights. We implement training and awareness campaigns for new and current employees each year. In 2020, the number of course enrollments for orientation training and RBA training totaled 3,314 enrollments and total training hours amounted to 1,368.99 hours. The training ratio was 96.18%.
Safe and Healthy Workplace
more
WIN takes the safety and health of workers very seriously, provides a friendly work environment, and establishes sound consultation, communication, and participation channels. WIN first obtained the OHSAS 18001 Occupational Health and Safety Management System certification in 2002 and has upheld the P-D-C-A approach for continuous improvement to ensure the effectiveness of the system. The fabs conduct daily occupational safety inspections and checks to observe and make improvements for potential risks. The EHS contact windows were appointed by every department and should participate regular EHS meetings including Occupational Safety and Health Committee to promote various safety and health operations, making continuous improvement. All fabs have successfully migrated to ISO45001:2018 Occupational Safety and Health Management System in 2020 and also obtained CNS 45001:2018 Taiwan Occupational Safety and Health Management System certification to support the policy of "zero safety accident and zero health risks."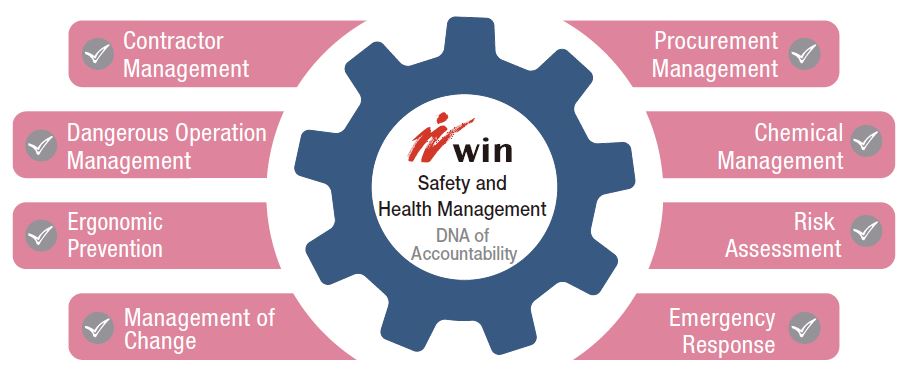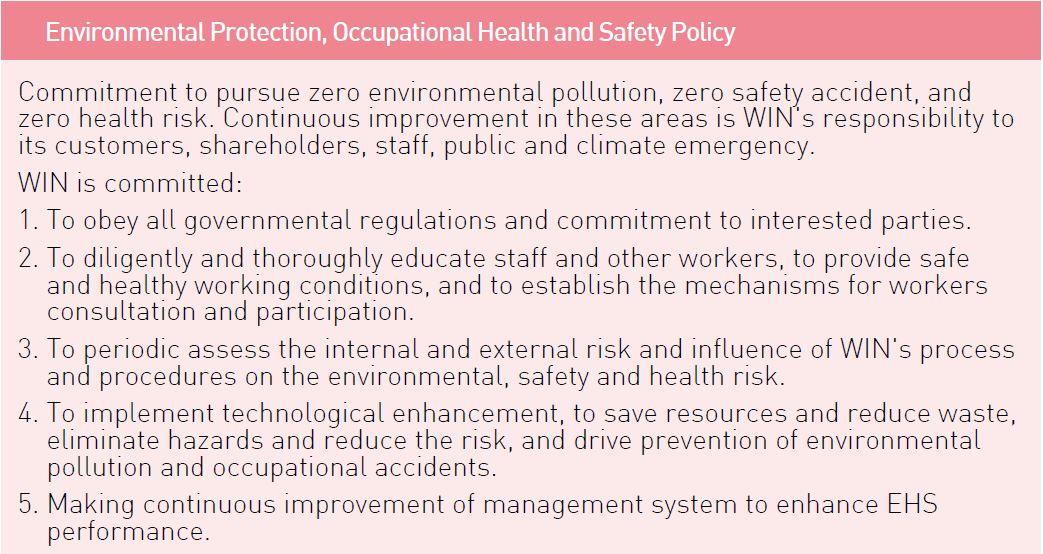 EHS Management Performance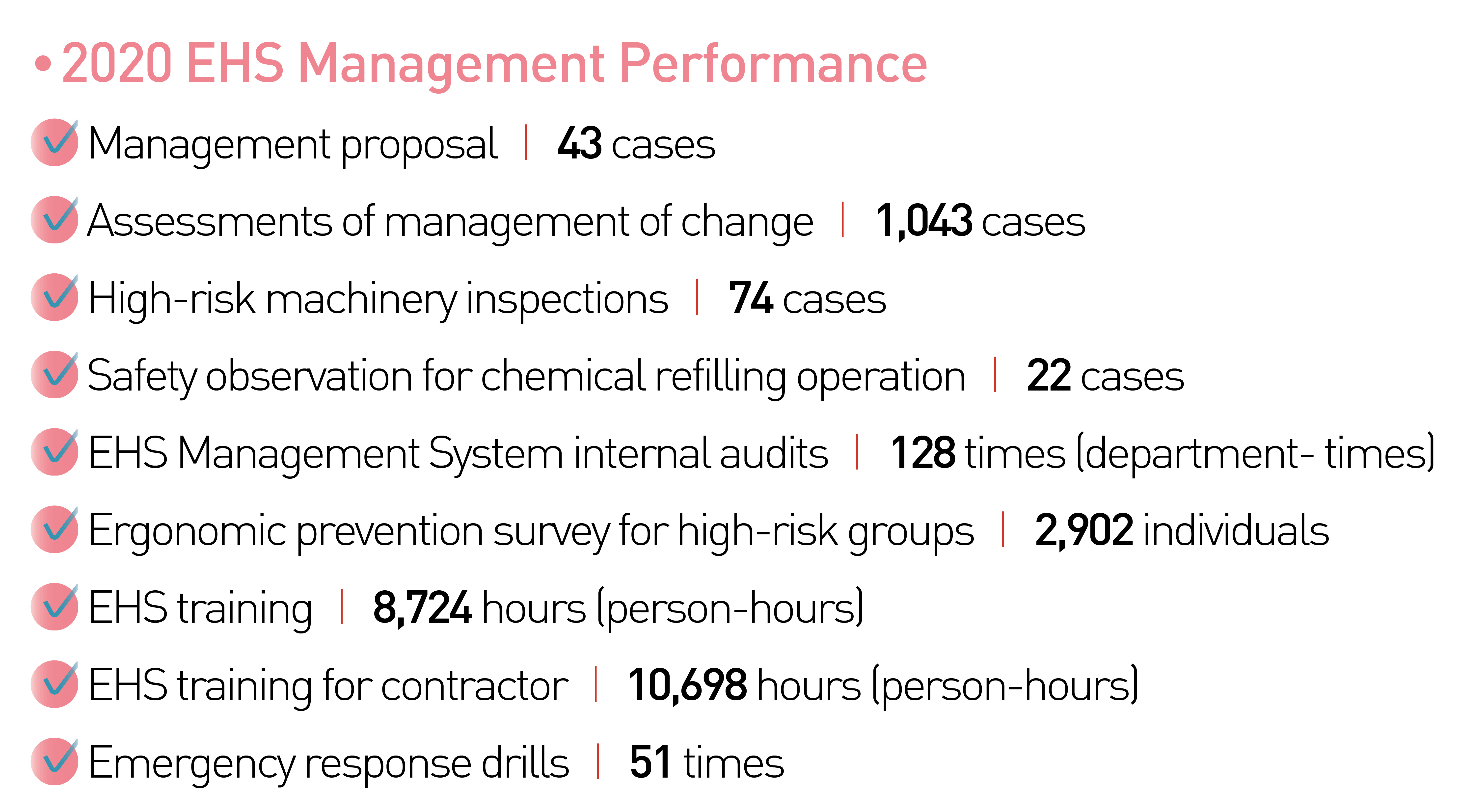 For more information, please read full article
Download