The Company hopes to provide mutual support and trust to new employees and existing employees by communicating with each other, in order to establish a successful organization and team. Therefore, we pay special attention to new employees who have been with us for less than three months. In addition, team-building activities are incorporated in substitute service programs and internship programs to provide these employees with a better understanding of the Company's core values. The Company respects the human rights of all of its employees, providing fair job opportunities for applicants and employees with the right skills. The Company does not discriminate against potential candidates based on race, beliefs, religion, political affiliations, gender, marital status, disabilities, or other entities protected under governmental regulations. Such principles apply to recruitment, employment, training, job promotion, remuneration, and welfare systems.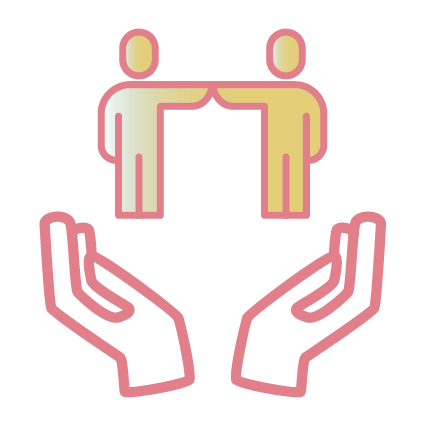 0 cases Complaints regarding violation of
human rights.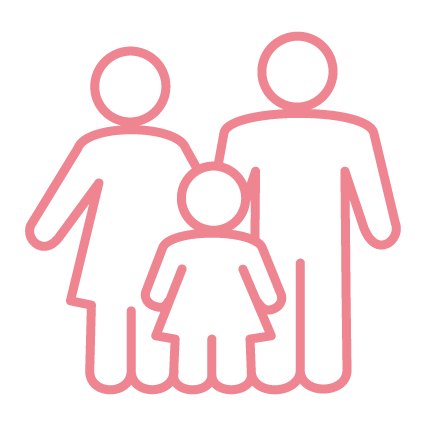 1,200 persons Number of children who benefitted from childcare subsidies as of the end of 2021.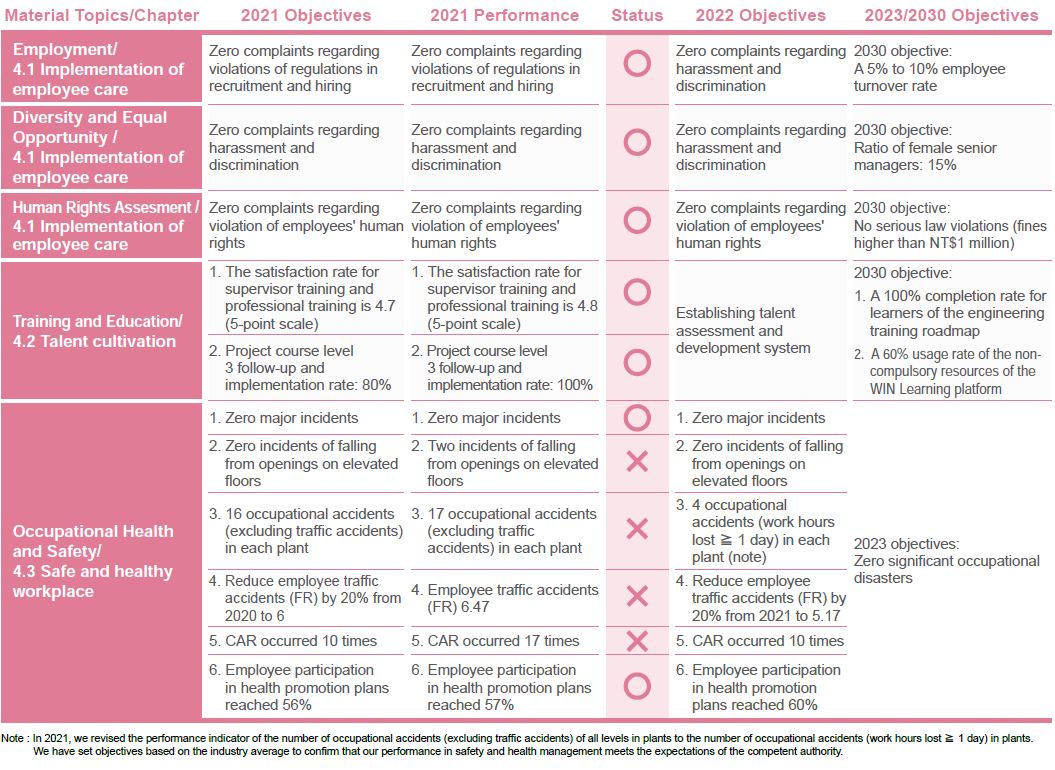 WIN organizes regular events and encourages employees to participate in club activities to provide them with diverse channels for relaxing their bodies and minds, balance work and life, and lead healthier lives. They can also form better relations with colleagues, family members, and local communities through participation in events.
Plentiful Compensation
| | |
| --- | --- |
| Item | Specific measures |
| Employee compensation | To express our gratitude for employees' contribution to the Company, WIN shares its business outcomes and appropriates parts of annual earnings as employee remuneration to thank our employees for their contributions in the previous year. Employee bonus is directly related to the Company's business performance, teamwork, and individual performance |
| Quarterly goal achievement bonus | Profits are shared with employees based on our business situation |
| Retention bonus | Direct employees receive NT$15,000 in retention bonus if they stay in the Company after one year (collected each year) |
| Bonus as recognition of skill | The bonus as recognition of skill is distributed after they are recognized by the Company |
| Diverse incentive bonuses or gifts | Bonuses or gifts for proposals, accountability, innovation, and instant rewards |
| Employee stock ownership trust | WIN's employees have independently established an Employee Stock Ownership Trust. To facilitate employees' financial planning and share its business outcomes, WIN provides corresponding monetary rewards to employees who voluntarily participate in saving a certain amount of money |
More Benefit Measures for Full-Time Employees
Complete insurance system and retirement plan: In addition to providing statutory Labor Insurance and National Health Insurance coverage and setting up the labor pension account, WIN appropriates the equivalent of 6% of employees' monthly salary as pension. The years of service of employees before July 1, 2005 are retained and they are provided with full and high-premium comprehensive group insurance including life insurance, accident insurance, medical insurance, and cancer insurance to improve employees' overall life and security.
Flexible hours and locations: To provide work-life balance, WIN gives employees a flexible 15-minute window for start and stop times. If necessary due to factors such as work or family, employees can apply for shift adjustments or apply to work from home. We provide employees with work flexibility.
Leave policies superior to statutory requirements: Once new employees pass a review after three months' service, they may enjoy

4

days of new hire leave (superior to provisions in the Labor Standards Act) + 3 days of statuary special leave.
The Company provides free regular health examinations for employees, clinic services provided by professional doctors in the Company, and various employee health promotion knowledge promotion and events.
Employee meal subsidies, dormitory, and shuttle bus.
Distribution of birthday gift money, Labor Day gift money, and Dragon Boat Festival/Mid-Autumn Festival/Chinese New Year shopping gift money, year-end party lucky draw, and employee party funding subsidies.
Employee marriage, funeral, hospitalization, and childbirth subsidies as well as relief funds based on employees' urgent needs.
Childcare subsidies: With the aim of encouraging more employees to build families and have children with the support of the Company's benefits policy, and in response to the government's policy to encourage childbirth, WIN began providing employees with monthly subsidies of up to NT$3,000 for each child under the age of 7 starting on July 1, 2019. In January 2021, the Chairman increased the monthly subsidies to a maximum amount of

5,000

per child. In 2021, WIN gave 768 employees more than NT$49.25 million in childcare subsidies. Since we began providing childcare subsidies, the number of eligible children reached 1,200 and the amount of subsidies reached NT$88.5 million.
To build a friendly workplace for mothers, each fab has designated independent and private breastfeeding rooms which were used 7,343 times in 2021. WIN also provides health education programs, medical consultation services, occupational risk investigation and management, classrooms for parents and baby health information, parking space for pregnant employees, birth subsidies, and group insurance subsidies. Day care centers and postpartum nursing centers were added in 2018. These provisions are aimed at creating a workplace environment that encourages a better work-life balance for female employees.
Pension Fund Appropriation Status
| Retirement Plan | Appropriation Status | 2021 Results |
| --- | --- | --- |
| Appropriated in accordance with the Labor Standards Act | Pension is calculated based on the employee's years of service and the average salary in the six months prior to retirement. The Company contributes pension reserve equivalent to 2% of the employees' salary each month to a special account in Bank of Taiwan. | The Company commissions professional actuaries to calculate pension reserve funds to ensure that full coverage of pension is reserved. As of December 31, 2021, the fair value of plan assets was NT$49,234 thousand. Future amounts of pensions that need to be paid as required by law have been included in the pension liability. The balance as at the end of 2021 was NT$113,026 thousand. |
| Appropriation based on the Labor Pension Act | The Company appropriates pension funds equivalent to 6% of the employee's salary to the dedicated personal pension account of the Bureau of Labor Insurance. | The number of years worked by employees hired before July 1, 2005 shall be reserved. The amount of pension expenses in 2021 totaled NT$120,817 thousand. |
Human Right Promotion
more
To protect the rights of all workers, WIN abides by all regulations of the Labor Standards Act as well as benchmark international human rights standards such as the "UN Guiding Principles on Business and Human Rights", "Declaration on Fundamental Principles and Rights at Work" of the International Labour Organization, and the UN Universal Declaration of Human Rights. In addition, we also adopted the Code of Conduct established by the Responsible Business Alliance (RBA) as the basis of internal management to protect the human rights of WIN's employees.
Our human rights management standards are established in the following regulations:
● Organize employee/employer meetings in accordance with the "Regulations for Implementing Labor-Management Meeting"
Although WIN currently does not have a union organized by employees, an employee/employer meeting is held every quarter. Ten representatives each from Fab A and Fab B, and five representatives from Fab C are appointed by employees and the Company. An employee communication mailbox has been set up to discuss related issues when they arise and prompt effective and fair communication to promote harmonious labor-management relations and to find mutually beneficial solutions.
● Established the "Regulations for Establishing Measures of Prevention, Correction, Complaint and Punishment of Sexual Harassment at Workplace"
To prevent sexual harassment at the workplace and protect gender equality and the rights and privacy of the parties, a temporary investigation team will be set up according to the nature of the case each time a sexual harassment complaint is received to protect employee rights.
● Established the "Corporate Social Responsibility Announcement"
WIN is committed to protecting employees' human rights and making employees feel respected and dignified. We also maintain the environmental security of all work areas and are responsible for all business activities. This Announcement includes five parts — labor, health and safety, environment, code of ethics, and management system. In this document, we commit to human rights issues, including the prohibition of human trafficking, forced labor, child labor, discrimination, and harassment. We provide fair and appropriate work opportunities and establish a friendly workplace environment based on the principle of equal pay for equal work. We also protect employees' freedom of association and rights to collective bargaining.
● Established the "WIN Supplier Code of Conduct"
The Company hopes to examine human rights issues with a more positive attitude and a broader perspective through communication and cooperation with our suppliers (including human resources agencies, corporate donations and other company partners). We also take our responsibility seriously when it comes to social and environmental issues.
Human Rights Risks Identification Process (two-track system)

Human Rights Risks Identified by WIN and Mitigation Measures
WIN referenced the RBA and health conditions of the workplace environment to assess human rights risks. Related departments periodically assess the effect of risk items on employees. The scope covered all of WIN's sites including three fabs and other activities related to our business. We identified 11 human rights risks in 2021. Besides implementing mitigation measures for all risks, we also formulated compensation measures for items with medium risk and above.
Risk Item
Mitigation measures
Main targets
Employee cafeteria hygiene
1. Daily inspections before meals
2. Daily sterilization of cafeteria equipment and monthly sterilization of the cafeteria environment
3. Annual medical check-ups for cafeteria personnel
4. Emergency drills of food poisoning each year
All employees
Forced labor and human trafficking
1. Formulate a social responsibility announcement for stating the Company's code of conduct for the workplace and strictly prohibiting forced labor, human trafficking, and other human rights violations
2. WIN respects human rights and does not withhold any identity documents of employees. Employees are free to resign
All employees
Child labor
1. WIN does not hire any underage employees, and verifies that employees are above the legal age before scheduling an interview
2. WIN established procedures for providing assistance as a precaution in case child labor is inadvertently employed
All candidates that have entered WIN's recruitment process
Work hours
1. Work hours and overtime rules are specified in the Employee Attendance Management Regulations
2. When employees work for 6 consecutive days, the direct supervisor will receive an employee overtime notification to prevent excessive overtime
3. Employees are not allowed to work overtime after reaching the legal limit each month
4. We provide overtime consent forms for all employees so that they can freely choose to work overtime within the legal scope
All employees
Workplace bullying (harassment)
1. Explained the Corporate Social Responsibility Announcement at regular intervals and increase awareness about the Company's zero-harassment, zero-discrimination, and zero-retribution policy. Violator will be punished accordingly to our corrective disciplines
2. Established the "Regulations for Establishing Measures of Prevention, Correction, Complaint and Punishment of Sexual Harassment" to protect employees. All cases are classified and reported according to the responsible authority unit. In addition, the cases' severity is determined by the authority that will be handling the cases
3. Established a sexual harassment complaints hotline and internal complaint channel
All employees
Salary and benefits
1. Quarterly employer-employee meetings and foreign labor seminars are held to promote the government's new policies
2. After the government revises a policy, WIN immediately evaluates the effect and adjusts internal regulations
All employees
Discrimination
1. We implement recruitment and hiring based on merit. We do not discriminate candidates on the basis of gender and gender identification, age, race, religion, political affiliation, marital status or sexual orientation. We also do not perform discriminative personal health examinations such as those conducted for pregnancy
2. We established comprehensive complaint mechanisms and communication platforms to prevent and process discrimination
3. Migrant Workers Protection
(1)All of WIN's human resources agencies need to sign the Supplier Code of Conduct, in order to protect all migrant workers' human rights
(2)We hold Foreign Employees Conferences quarterly in order to understand all migrant workers' needs, and deliver company's policies to reach smooth communication
(3)Multiple Communication Channels: building a complaint mailbox, and electing representatives in order to receive and answer questions from foreign colleagues
(4)Foreign employees care events: sharing culture exchange between foreign and local employees, teaching environmental protection knowledge, and providing multiple caring services specifically for migrant workers
All employees
Freedom of association and collective bargaining
1. New employees are required to sign the Corporate Social Responsibility Announcement so that they understand their rights and obligations and that employees are free to form or join unions. The Company respects employees' rights to collective bargaining and peaceful assemblies
2. If employees have concerns about the freedom of association, they can exchange ideas and process them accordingly through the complaint processing mechanisms and communication platforms
3. We implement awareness campaigns at the end of each year to remind employees of their rights to form or join unions
All employees
Women protection
1.According to the Workplace Maternity Health Protection Program, WIN conducts hazard evaluations and implement health protection measures for female employees who are pregnant, within the first year after childbirth, and still breastfeeding one year after childbirth
2.According to Female Staff Security Procedure, we provide all female employees human rights, health and benefit protection
Female employees
Protection from overwork related illness
Conduct hazard investigations and control according to the Program for Prevention of Overwork Related Illness
Both human-factor hazard prevention survey and overwork high-risk group surveys were implemented 3,113 individuals
Unlawful infringement while performing duties
Handle according to the Program for Prevention of Unlawful Infringement While Performing Duties, Sexual Harassment Prevention Measures, and Complaint and Punishment Regulations
All employees
Human Rights Risk Matrix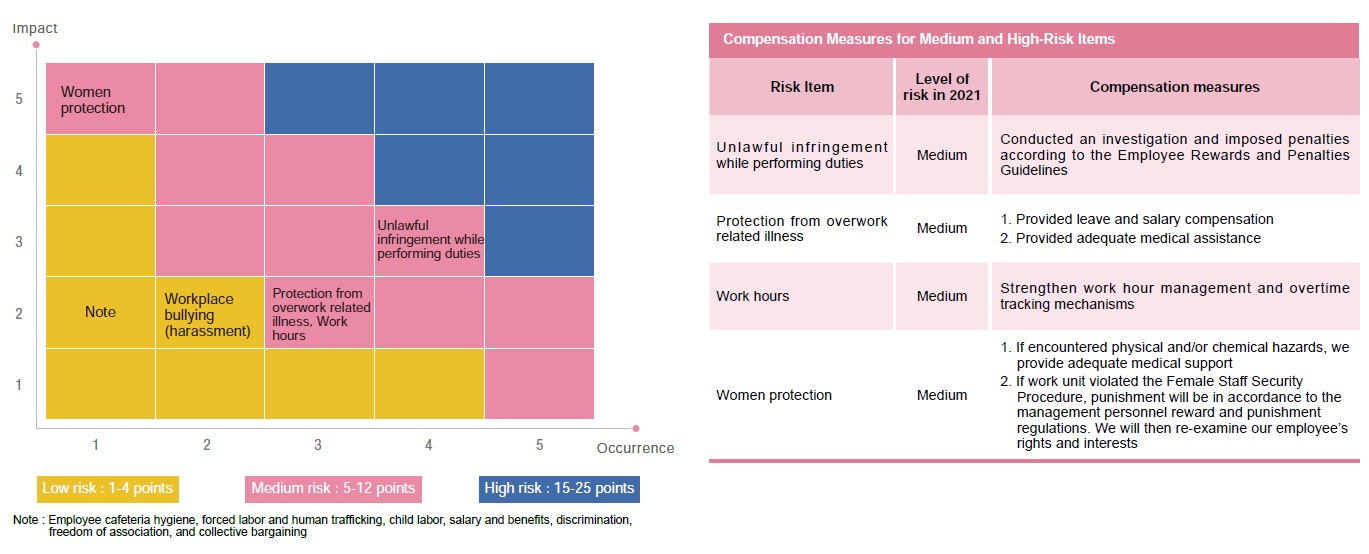 WIN regularly review internal regulations, procedures, and related risks and actively improve the work environment. Domestic and foreign customers also adopt international standards to review WIN's human rights risks and related measures. There were no major deficiencies in customer audits of human rights issues in 2021.
Human Rights Policy Training
WIN references international human rights standards and trends to regularly update and review the internal Corporate Social Responsibility Announcement. We implement training and awareness campaigns each year to meet international human rights standards and continue to protect employees' rights. We implement training and awareness campaigns for new and current employees each year. In 2021, the number of course enrollments for orientation training and RBA training totaled 4,162 and total training hours amounted to 1,842.46 hours. The RBA training ratio was 98.55%.
Human rights policy training hours
Course Issue
Course Name
Course enrollments
Course length (hours)
Total training hours
RBA and Corporate Social Responsibility Statement
RBA promotion
3,462
0.33
1,142.46
Orientation
700
1
700
Total
4,162
1.33
1,842.46
Percentage of human rights policy training coverage
| Employee category | Number of employees that completed training | Total number of people | Employee training completion percentage |
| --- | --- | --- | --- |
| Managers | 377 | 387 | 97.42% |
| Professionals | 1,382 | 1,423 | 97.12% |
| Technicians | 1,703 | 1,703 | 100.00% |
| Total | 3,462 | 3,513 | 98.55% |
In response to the rapid advancements in semiconductor technology, and to ensure that the career development of our employees and managerial officers is in line with the Company's business goals, WIN has included employees' development in its human resource management strategy. A training roadmap for professional and managerial competencies is designed on the basis of mid-to-long-term business strategy and WIN's core values, using multiple training methods to promote various training and development programs. In addition, we also comply with the government's regulatory requirements and regularly organize related courses for environmental protection to establish a safe workplace environment.
Talent Development Action Plans
Management skills and development
WIN values the leadership skills of the management. To enhance their management skills, we provided different training courses for all levels of managers, such as: management courses for newly promoted and basic-level managers, practical techniques for performance interviews, techniques for recruitment interviews, accountability dialogue and guidance techniques, legal knowledge required by managers, and management skills courses, in order to effectively develop the leadership of managers. WIN organized 18 sessions in 2021 for 606 manager attendees.
Orientation
Helping new employees understand the history of WIN, its current advantages, and future challenges. Department functions and experiences are introduced to help new employees understand WIN's culture and core values of Integrity and Accountability, Innovation, Customer Satisfaction, and Quality Foremost, which enable them to quickly adapt to the work environment. In addition, we also offer related training courses on environmental safety, such as basic fire safety concepts, general knowledge on hazards, and general safety and health training for workers, to provide employees with a safe and secure workplace environment.
Internal/on-the-job training for units
Besides training in the classroom, learning from doing is the primary way for improving abilities. WIN provides new employees with a series of on-the-job training (OJT) plans, and provides different units with customized course plans to directly train new employees at their posts and implement OJT ideals. We require units to complete training within 3 months for new employees to systematically improve professional skills.
Production training
This training program aids technicians who are involved in production to learn job-related skills and knowledge. The program combines certification mechanism so that employees can obtain permits to operate machineries. We also implement regular retraining mechanisms for employees to successfully complete their missions.
Industry-university collaboration
In-service training is provided at flexible work hours to support employees' continuing education.
General knowledge training/lecture on life
Based on government regulations and company policies, general knowledge training courses in the company have been arranged, including environmental safety and health, emergency response training, quality management, and workplace ethics. Also, the Company has setup talks by experts in health, parent-child relations, gender relations, traveling, and lifestyle-related topics, injecting positive energy among employees to encourage them to find a balance between their body and mind outside of work.
Enhancing individual job performance
We provide self-management general knowledge courses to all employees. We hope to use soft skills courses to help employees improve their job performance and explore their potential.
Language training
Following the Company's rapid growth in recent years, our sources of customers are becoming growingly diverse. We developed comprehensive language training/subsidy project to improve employees' foreign language proficiency. Including:
- English simulation tests are provided for employees to determine their English level and devise self-learning plans.
- A variety of English learning tools and resources are provided for employees. We worked together with language learning institutions to provide preferential prices to employees. We also collaborated with TOEIC and provided subsidies for employees to take the test
Number of training hours by personnel category
| Category | Managers | Professionals | Technicians | Total |
| --- | --- | --- | --- | --- |
| Total training hours | 4,663.98 | 20,902.26 | 11,305.84 | 36,872.08 |
| Number of employees | 387 | 1,423 | 1,703 | 3,513 |
| Average training hours per employee | 12.05 | 14.69 | 6.64 | 10.50 |
Training course type
Item
Sessions
Total participants
Total participation hours
Management skills training
18
606
1,297.43
Professional quality control training
13
1,277
1,667
Core culture trainingCore culture training
11
1,150
531.9
Specialized training
34
264
946
General knowledge training
96
7,110
26,369.75
Environment, health
and safety training
48
2,294
6,060
Total
220
12,701
36,872.08
Safe and Healthy Workplace
more
WIN takes the safety and health of workers very seriously. To keep our employees healthy and prevent occupational diseases from occurring, we established sound consultation, communication, and participation channels. In accordance with the Enforcement Rules of the Occupational Safety and Health Act, and through continuously improving the occupational safety and health management system, we prevent accidents and promote employee safety and health, as well as a human-centric culture. WIN first passed the occupational safety and health management system certification in 2002 and has upheld the P-D-C-A approach for continuous improvement to ensure the effectiveness of the system. We continue to identify and improve potential risks. We also appointed EHS contact window in each department who participates in regular management and the Occupational Safety and Health Committee to promote various safety and health operations, and continue to review and improve operations. All fabs have successfully upgraded to ISO45001 Occupational Safety and Health Management System in 2020 and obtained CNS 45001 Taiwan Occupational Safety and Health Management System certification to build an intrinsically safe working environment.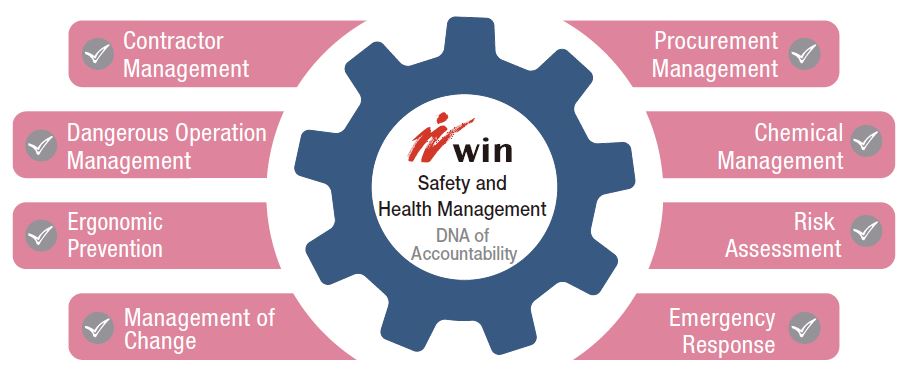 Safety and Health Tasks
To drive the implementation of safety and health tasks, WIN follows the Environmental Protection, Occupational Health and Safety Policy and tracks the results with EHS performance indicators. We describe the EHS performances to the labor representatives of various organizations within the Company in the Occupational Safety and Health Committee in each quarterly meeting.
2021 EHS Management Performance:
Management proposal:

43

cases
Assessments of management of change:

674

cases
Observation of preventive maintenance operation and high-risk machinery inspections:

42

cases
Safety observation for chemical refilling operation:

32

cases
EHS Management System internal audits:

118

times (department- times)
Ergonomic prevention survey for high-risk groups:

3,113

individuals
EHS training:

10,772

hours (person-hours)
EHS training for contractor:

9,426

hours (person-hours)
Emergency response drills:

8

times (some drills were not held due to the epidemic)
Key results of EHS management measures in 2021
Objective
Description
Result
Drinking water testing
To maintain the quality of drinking water and employee health, we conduct sampling inspections of e-coli bacterial colony in water dispensers every three months in accordance with the Regulations for the Use, Maintenance, and Management of Stationary Continuous Drinking Water Supply Equipment.
Number of water dispensers
tested: 72.
Pass rate: 100%.
Workplace environmental monitoring
We test workplaces for CO2, noise and chemical substances every six months in accordance with the Regulations for Workplace Environmental Monitoring. For machines, equipments, operations, or environments that use or store chemicals, we sample and analyze the concentration of chemical substances in the environment to protect employees from physical and chemical harm. Tested a total of 1,436 items.
Number of items tested: 1,036
Pass rate: 100%.
Health examination
Employees receive general and special health examination every year:
General health examination: 3,122 employees
Special health examination:
1.Arsenide (As) and its compounds: 1,924 employees
2.Ionizing radiation: 333 employees
3.Nickel and its compounds: 93 employees
4.Mercury: 41 employees
5.Indium and its compounds: 96 employees.
Work related abnormal results in health examination: 0 (There were no class 3 and class 4 management abnormalities).
Environmental protection and labor safety training
In accordance with the Occupational Safety and Health Education and Training Rules, total 10,722 hours of participation in safety and health education training in 2021to protect employee safety and health:
1. Occupational safety and health training for new employees: Establish employees' safety and health awareness.
2. Supervisor occupational safety and health training: Establish supervisors' safety and health awareness.
3. Liberal hazardous chemicals Training for new employees: Establish employees' hazards of chemical substances awareness and how to use personal protection equipment.
4. On-the-job labor health and safety / fire safety / fire extinguisher / emergency evacuation training., at the same time, hold 8 emergency response drills and two scooter safety lectures were organized. (The rest of the lectures had been changed to online lectures due to COVID-19). Contractor participated in safety and health education training for total 9,426 hours.
Enhanced protection of employee safety and health.
On-site inspections, safety inspections, and internal audits
1. Daily EHS related on-site inspections.
2. Implementation of high-risk machinery safety inspections.
3. EHS Management System internal audits.
Active and systematic problem finding to reduce the potential risks.
GHG emission control management
Besides conducting inventories for GHG emission and commissioning a certifying body recognized by the Environmental Protection Administration in accordance with regulations each year, we also evaluate the economic and technical feasibility of reducing GHG emissions.
The inventories are reported in accordance with the law and serve as the basis for reducing GHG emissions.
Occupational Accidents Management
Statistical indicators of disabling injuries are calculated in accordance with the Occupational Safety and Health Act, with the disabling injury frequency rate (FR) and disabling injury severity rate (SR) as the primary data, excluding off-site traffic accidents. There were no deaths, major occupational accidents, or occupational diseases caused by work in 2021, but there were 5 non-traffic occupational accidents. The disabling injury frequency rate (FR) was 0.77 and the disabling injury severity rate (SR) was 4. According to the type of injury, three are fall cases where raised floors caused the fall (the number of days lost accounts for 18%) and one case of being crushed when transporting objects (the number of days lost accounts for 79%). WIN seeks to prevent the same types of occupational accidents from occurring and conducts special investigations on occupational accidents. We take measures to improve the work environment and enhance personnel safety education and training to actively enhance safety awareness. We also conduct reviews and improvements for accidents in quarterly meetings of the Occupational Safety and Health Committee to move towards a zero-accidents objective. Moreover, there were no accidents involving other workers that are not employees in WIN plants from 2018 to 2021.
For more information, please read full article
Download