Suppliers are important partners to WIN's sustainable development. To strengthen our partnership with suppliers, improve their quality, WIN established the "WIN Supplier Code of Conduct" to request suppliers to strictly abide by the contents of the Code of Conduct in all commercial operations and full compliance with the laws and regulations of the country/region of operations.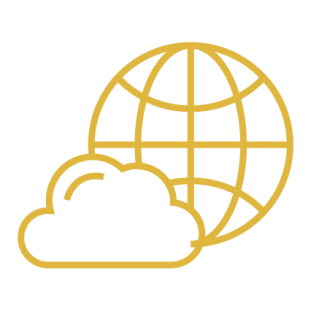 100% Materials used for producing wafers
are sourced from mines in
non-conflict areas.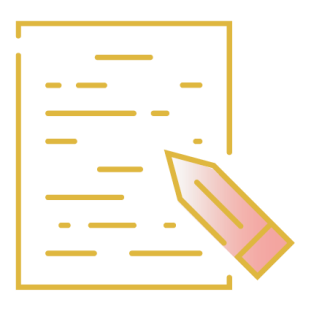 100% Ratio of new suppliers in the supply
chain that signed the "WIN Supplier
Code of Conduct".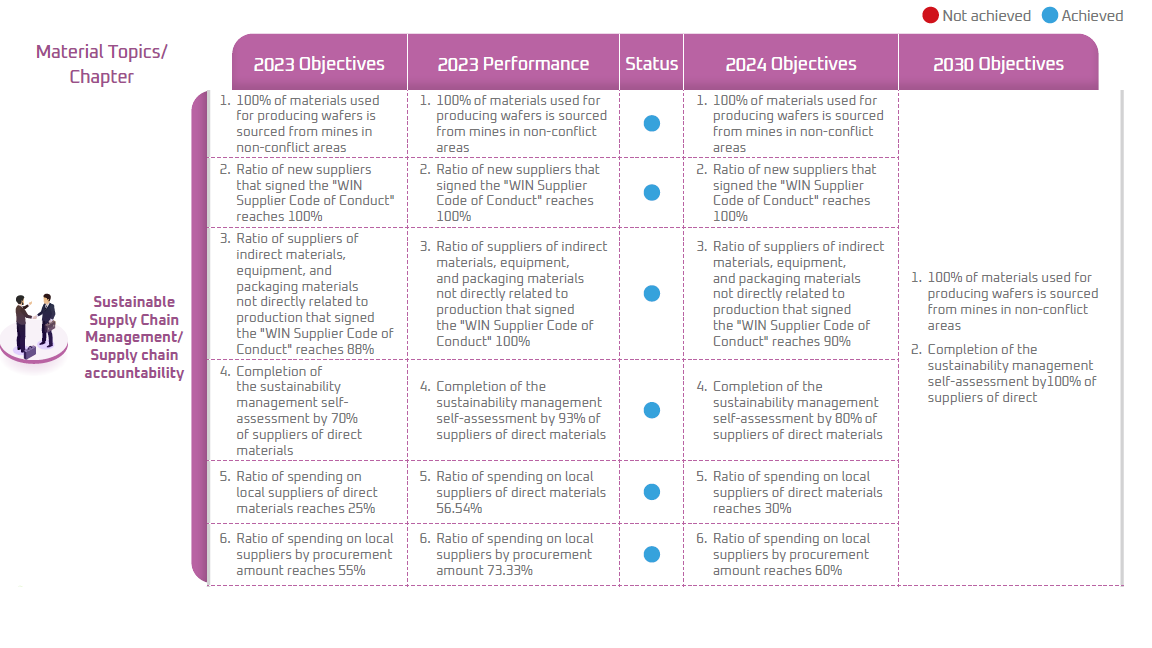 Supply Chain Management
more
WIN is committed to its responsibility for environmental and social aspects. WIN expects its supply chain to develop sustainably and move towards a friendly environment and a safe workplace, and to follow ethical standards. WIN conducts due diligence on upstream supplier-related risks and promotes the sustainable development of upstream and downstream suppliers through the four aspects of the supplier management process: formulate standards, risk assessment, supplier evaluation, and continuous improvement.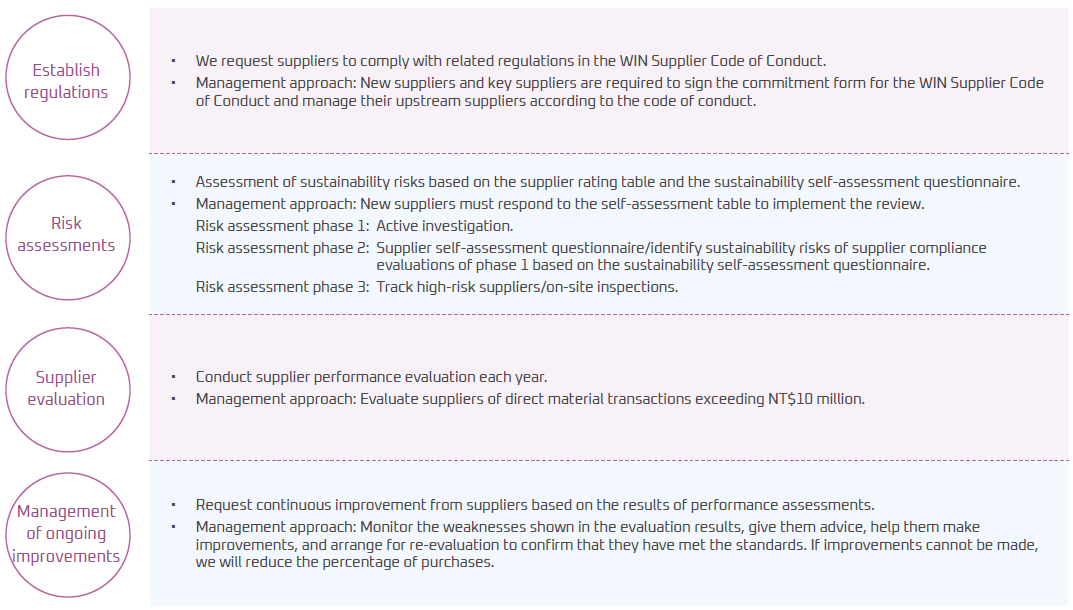 Supply Chain Management Strategy
Value: Obtain overall competitive value of the supply chain.
Diversify supplies: Maintain at least two raw materials suppliers for the same materials to ensure continuous and stable supply of materials.
Quality foremost: Obtain products and services of the best quality provided by suppliers.
Sustainable procurement: Improve the economic, environmental, and social sustainability performance of suppliers.
Responsible minerals purchasing: Ensure products provided by suppliers are produced with metals mined from reliable non-conflict zones.
Contractor management: Prioritize work safety management and advance both the system and execution to achieve the goals of zero hazards and zero incidents.
Regulation
WIN firmly believes that a sustainable supply chain is the key to the Company's success in long-term operations. To ensure suppliers understand and establish sustainable operations, we referenced information published by the Responsible Business Alliance (RBA) and related international regulations to establish the WIN Supplier Code of Conduct, requiring suppliers to comply with the code in their business conduct in labor, health and safety, environment, corporate ethics, and management systems and fully comply with the laws and regulations of the countries/regions of their operations. We also require suppliers to communicate these requirements to their suppliers and supervise the implementation status of the next level of suppliers.
Suppliers that have completed the survey and signed the "WIN Supplier Code of Conduct" in 2021
Location
Americas
Europe
Taiwan
Asia Pacific
Others
Total
Direct raw material supplier
Number of companies surveyed
13
4
100
19
-
136
Response rate
92%
100%
97%
100%
-
97%
Indirect materials, equipment, and packaging materials not directly related to production
Number of companies surveyed
32
11
866
30
3
942
Response rate
62%
57%
82%
85%
100%
91%
Critical suppliers
Number of companies surveyed
22
8
57
27
1
115
Response rate
95%
75%
96%
96%
100%
94%
WIN Supplier Code of Conduct
WIN Supplier Code of Conduct
Environmental Protection, Safety and Health Requirements for Supplier / Vendor /
Subcontractor / Contractor
Environmental Protection, Safety and Health Requirements for Supplier / Vendor /
Subcontractor / Contractor
Information Security Notice to Supplier
Information Security Statement
Prevention of Counterfeit Products
Prevention of Counterfeit Products
Requirement for suppliers of raw material and packaging material by WIN:
Notice for management changed
Any change on products including component, concentration of harmful material or location of manufacturing, suppliers must take the initiative to inform WIN.
Declaration for not use of haz ardous substances
Suppliers must confirm all of the raw material (recycled raw material included) and packing material do not contain the hazardous substances which list on Annex I. During the time of suppliers' annual evaluation and applying for new supplier and material assessment, suppliers must sign in Annex I.
Annex I_Certification for not use of hazardous substances
Testing Report
During the time of suppliers' annual evaluation and applying for new supplier and material assessment, suppliers must provide the testing report of raw material.
Testing report must be done in a fair laboratory by the third party. The process must meet the regulation of HSF.
Testing report provided by suppliers of raw material is valid for one year.
Supplier must provide testing report according to the following classification:
| Types of suppliers | RoHS | REACH |
| --- | --- | --- |
| Wafer | V | V |
| Metal | V | - |
| Polyimide | V | V |
Declaration of Metal Conflict-Free
The supplier of metal shall use the latest "Conflict Minerals Reporting Template"(CMRT) by CFSI to disclose the mental sources and the smelters and refineries in the supply chain.
Supply Chain Management Risk Assessment
WIN manages sustainability risks for the supply chain to learn about sustainable development status in the supply chain. We survey and evaluate the sustainability risks of suppliers through a three-stage risk investigation every year.
Risk assessment phase 1:Active investigation
Conduct a preliminary assessment and analysis of potential risks for all suppliers based on the regions, procurement amount, and production process of suppliers.
Risk assessment phase 2:Supplier self-assessment questionnaire
To learn more about r isk assessments of supplie rs, the Company conducts investigations on cr itical suppliers and i dentify suppliers' risks levels based on i nvestigation items that include the financi al capabilities, information security management, records in the industry, past business reputation status, logistics and support capacity, environmental protection management, and supply controls in order to identify, manage, and evaluate suppliers' supply capacity and risks.
Risk assessment phase 3:High-risk assessment/onsite inspection of suppliers
The Company identifies high-risk critical suppliers based on the supplier risk assessment table and conducts onsite inspections to require improvements for deficiencies. We implement varying levels of requirements for c ritical supplie rs to g radually reduce existing sustainability r isks, im prove t he sustainability performance in the supply chain, and contribute to a stronger supply chain management system.
Supplier Evaluation
WIN regularly assesses suppliers' compliance with the risk management items and choose partnerships based on supplier compliance and continuous performance.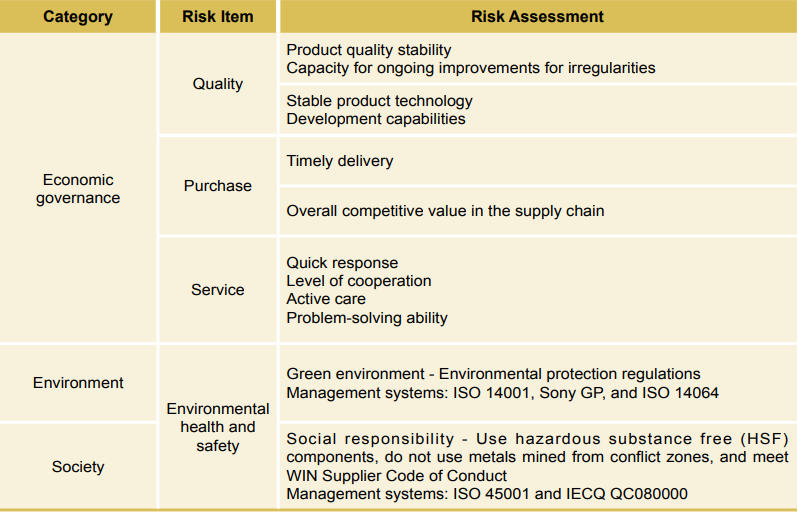 Existing Supplier Evaluation
With regard to raw materials supply chain evaluation and management, WIN rates its suppliers according to actual transactions in the previous year regarding quality, procurement, service (including customer notifications of special circumstances and customer interruption), and environmental safety and health practices. Materials suppliers are graded according to their evaluation scores, and those with low scores are requested to propose improvement strategies. WIN organizes onsite audit plans based on annual evaluation results. We also audit main suppliers at least once every three years. Supplier level management: A-level: increase the percentage of purchases; B-level: maintain the current level of purchases; C-level: reduce the percentage of purchases, require the supplier to submit a report every year, and help the supplier improve performance to raise the supplier to level B.
We evaluated 44 suppliers in 2021. The amount we spent on purchasing from these suppliers accounts for 87% of the amount spent on purchasing raw materials. Evaluation results: 50% A-level and 45% B-level raw materials suppliers. WIN complies with internal review standards for the verification procedures of new materials/suppliers and related units carefully review the procedures and implement supplier audit plans.
On environmental safety and health, the status of supplier response to greenhouse gas inventories shows 2 suppliers who did not respond, 19 completed ISO 14064 greenhouse gas inventories, of which 11 have passed third-party verification.
Evaluation of new suppliers
WIN's review and approval or all new raw materials are carried out as follows: first they are tested by the engineering department, and if found to have complied with the standards, the vendor of the materials is evaluated by other relevant auditing departments, such as EHS, legal affairs, procurement, quality assurance, and material management for supply risk and to ensure subsequent security in the supply of materials. Once the vendor has passed all evaluations, it will become WIN's qualified supplier and will then undergo WIN's annual performance assessment. The Company's audit team will subsequently arrange on-site audits based on the annual assessment results.
Management of Ongoing Improvements in the Supply Chain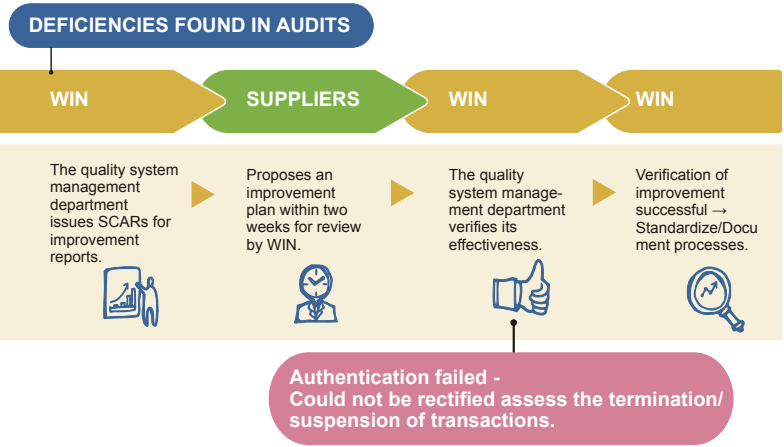 In order to prevent the risks of supply disruptions or discontinuations, which are often unavoidable, WIN performs ongoing risk assessments and audits of major raw material suppliers. The Company also established contingency plans with respect to the geographic locations of suppliers' production facilities. In the event of a major supply disruption incident, WIN will be able to respond promptly to minimize the impact. The Company also updates and reviews suppliers' inventory levels and production scheduling plans on a monthly basis and integrates the information management approaches of the supply chain's upstream and downstream players in order to minimize the anticipated risks.
WIN assists and guides suppliers and contractors into improving the work environment to improve safety and health concepts and sustainability management awareness. The environmental and safety unit holds a monthly contractor consultative organization and environmental safety and health training meeting. In 2021, a total of 137 companies attended the environmental safety and health training. Contents of the training include: WIN's sustainability management mechanisms and goals, safety and health regulation promotion, and increasing the awareness of legal liabilities for occupational hazards. We use seminars to communicate future management requirements and key items.
For more information, please read full article
Download