Corporate Social Responsibility Committee
The Company established the Corporate Social Responsibility Committee in March 2016. The role of the chair is filled by a Director who also serves as a senior executive. The Committee has five CSR promotion teams whose members consist mainly of executives of Centers and Departments as shown in the Figure below. The teams are dedicated to CSR tasks in corporate governance, care for culture and humanity, innovative technology, sustainable environment, and corporate value chain. They are responsible for formulating objectives for and the execution of policies or systems for corporate governance, development of a sustainable environment, and protection of social welfare. The CSR Committee reviews the results of its operations at the end of each year and reports to the Directors. The key points in the report at the end of 2020 included the performance of CSR missions, the plans and material topics for the advancement of the plan this year, and the goals for corporate governance, environmental protection, employee health, and workplace safety for the following year.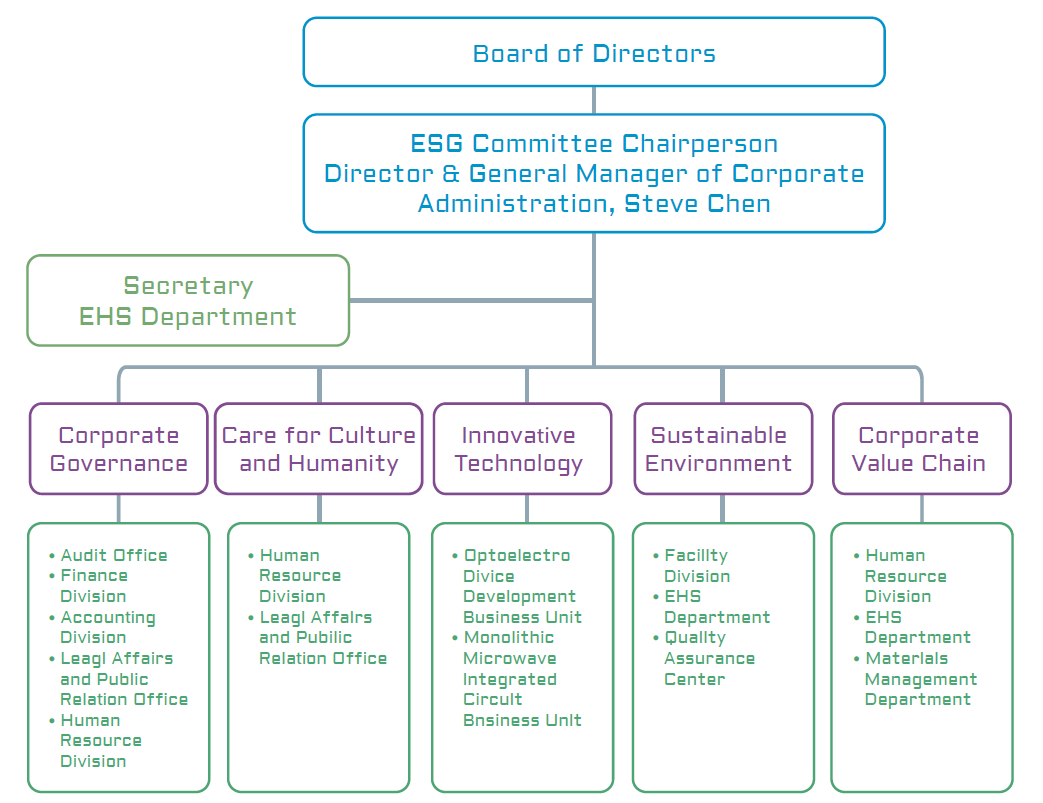 Corporate Sustainability Philosophy
Corporate Governance Promotion
more
Regulation:WIN, by establishing the "Corporate Governance Best Practices Principles," promotes a sound corporate governance system, protects shareholders' interest, strengthens the functionality of the Board of Directors, and improves information transparency. WIN has established an effective corporate governance framework with functional committees under the Board of Directors, including the Audit Committee and Compensation Committee, to assist the Board of Directors by providing professional recommendations for governance.
Corporate governance supervisor:The Board of Directors approved the appointment of corporate governance supervisor on May 14, 2019. The positions are held by assistant vice presidents with at least three years of experience in legal affairs. The main responsibilities are to provide directors with necessary data for performing duties, assisting directors with regulatory compliance, and handling matters of Board meetings and shareholders' meetings in accordance with the law.
Major work was as below:
1. Acting as the secretary of the Board and the major contact between the Directors and the Company.
2. Assisting Directors to performing their duties and provide meeting materials information as they deem necessary as well as to help the communications between Directors and internal officers.
3. Providing continuing educations information to Directors and arranging training courses for them.
4. Assisting the arrangement the communication affairs between Audit Committee members, external CPAs and chief of internal auditor.
5. Setting up the Board meetings agenda, call the meetings and providing meetings materials. Reminder the director for rescue in advance if there is any conflict interests matter. Providing meeting minutes within 20 days after the Board meeting.
6. Assisting shareholders' meeting affairs.
Education/training records:
Date
Host by
Course Title
Hours
08/04/2020
Corporate Operation Association
Forum of "All Aspects of Shareholders' Rights and Interests-From the Dispute of Management Rights"
3
08/06/2020
Taiwan Corporate Governance Associate
Insider trading prevention and countermeasures
3
08/14/2020
Corporate Operation Association
Legal due diligence of enterprise mergers and acquisitions and an overview of transaction contracts
3
08/21/2020
Corporate Operation Association
Offense and defense of hostile mergers and acquisitions and the responsibility of the person in charge of the company
3
08/28/2020
Corporate Operation Association
Take biotech companies as an example to discuss legal issues related to corporate listings, mergers and acquisitions, and delisting transactions
3
11/06/2020
Zhong Dao Association of Leadership & Culture
Deepen corporate governance and the culture of corporate social responsibility
3
Total number of course hours in 2020
18
Promotes a Culture of Integrity
more
Regulation:"Procedures for Ethical Management and Guidelines for Conduct"
Responsible unit:WIN shall designate the Human Resources Division as the responsible unit and in charge of the amendment, implementation, interpretation, and advisory services with respect to these Procedures and Guidelines, and periodically submits a written report on the implementation status to the Board of Directors.
The responsible unit is to be in charge of the following matters:
1. Assisting in incorporating ethics and moral values into the Company's business strategy and adopting appropriate prevention measures against corruption and malfeasance to ensure ethical management in compliance with the requirements of laws and regulations.
2. Adopting programs to prevent unethical conduct and setting out in each program the standard operating procedures and conduct guidelines with respect to the Company's operations and business.
3. Planning the internal organization, structure, and allocation of responsibilities and setting up check-and-balance mechanisms for mutual supervision of the business activities within the business scope which are possibly at a higher risk for unethical conduct.
4. Promoting and coordinating awareness and educational activities with respect to ethics policy.
5. Developing a whistle-blowing system and ensuring its operating effectiveness.
6. Assisting the Board of Directors and management in auditing and assessing whether the prevention measures taken for the purpose of implementing ethical management are effectively operating, and preparing reports on the regular assessment of compliance with ethical management in operating procedures.
Material Topics/Chapter
2020 Objectives
2020 Performance
Status
2021 Objectives
2022 Objectives
Anti-corruption/1.5 Culture of integrity and accountability
1. 0 violations of the ethical corporate management policy by Company employees
1. 0 violations of the ethical corporate management policy by Company employees
Achieved
1. 0 violations of the ethical corporate management policy by Company employees
1. 0 violations of the ethical corporate management policy by Company employees
2. Employee response rate to questionnaires on the ethical corporate management culture and policy reaches 95% and above
2. Employee response rate to questionnaires on the ethical corporate management culture and policy reached 96.18%
2. Employee response rate to questionnaires on the ethical corporate management culture and policy reaches 96% and above
2. Employee response rate to questionnaires on the ethical corporate management culture and policy reaches 97% and above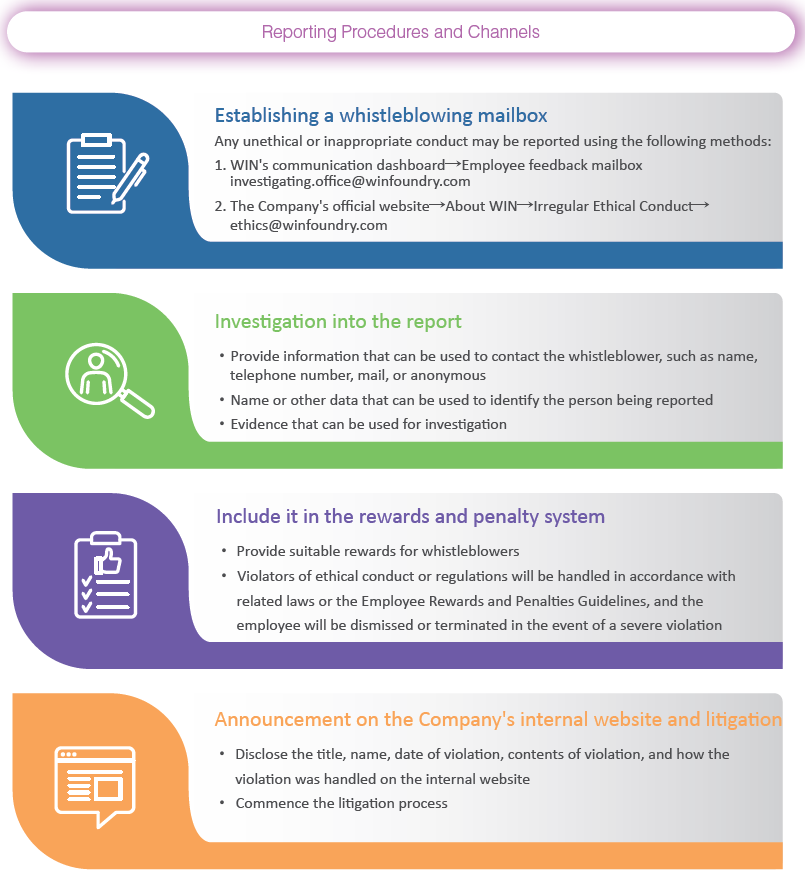 Implementation Status of Prevention of Insider Trading
Regulation:"Procedures for the Prevention of Insider Trading"
We promote education and promotion for Board of Directors or employees once or more each year. We organize related courses for Board of Directors on Nov. 6, 2019, which are included Anti-money Laundering and Combating Terrorism and Insider Trading, Avoidance of Violation of Securities Trading Laws -Talking about False Financial Reports and Insider Trading. We organize related courses for new employees each year to educate them on the Company's core value of "integrity and accountability." At the end of the year, we promote the policy of integrity and RBA to raise employees' awareness of "integrity and accountability.
Regulation:The Board of Directors of WIN is the highest management unit responsible for the Company's operating risk. With the assistance of the Audit Committee, the Board controls and manages the existing or latent risks of the Company, including establishing internal control systems, implementing internal auditing. By establishing the "Rules for Risk Management" which is including organization frame and risks boundaries, and then approved by the Board of Directors to reduce the possibilities of risk occurrence and mitigate the impact of risk-induced damage. Furthermore, reporting on the implementation status to the Board of Directors yearly.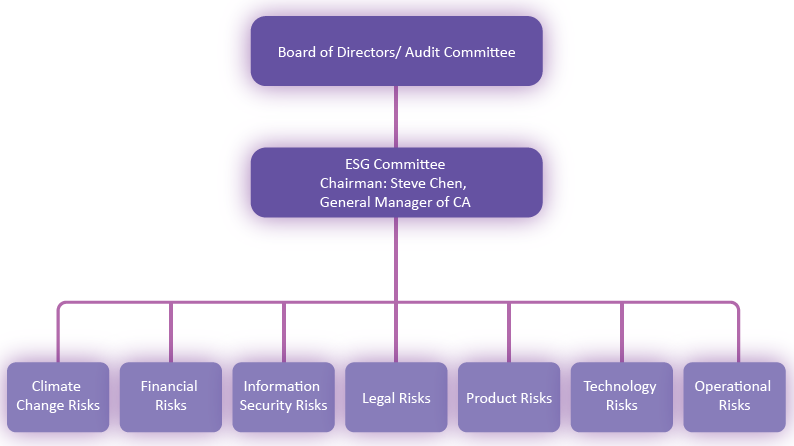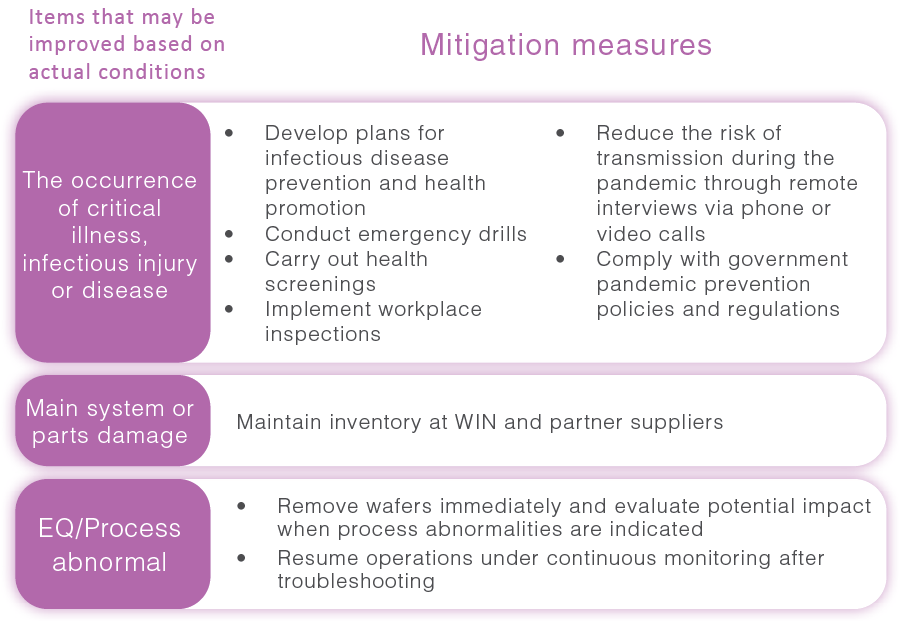 The responsible units in the risk management organization proposed 83 risk factors in 2020.
According to the evaluation in 2020, no items required immediate improvements. Items that may be improved based on actual conditions consisted mainly of irregularities in key equipment, shortage of main materials, insufficient production capacity, updates of labor laws, and infringement of intellectual property rights. The responsible units shall propose prevention and recovery plans and test the effectiveness of emergency response plans each year. These items shall remain listed as medium to long-term risk management items and the Company shall continue to execute emergency response mechanisms.
WIN conducts sensitivity analysis and stress tests for risk items including financial issues such as exchange rate and interest rate fluctuations, interruption of water supply caused by climate factors, interruption of the supply of main materials and chemical leaks caused by natural disasters, and information security risks.
Information Security
more
Purpose: The information security policy includes regulations on the operations of information security measures to protect the safety of information assets, ensure their confidentiality, integrity, and availability, and thereby ensure the Company's overall competitiveness and gain customers' trust.
Information Security Management Committee
Information Security Policy
I.Avoid disclosing information to unauthorized personnel to maintain information confidentiality.
II.Prevent information from tampering by unauthorized personnel to maintain the integrity of information.
III.Allow lawful users to obtain information when they need it.
IV.Comply with information security related laws and regulations.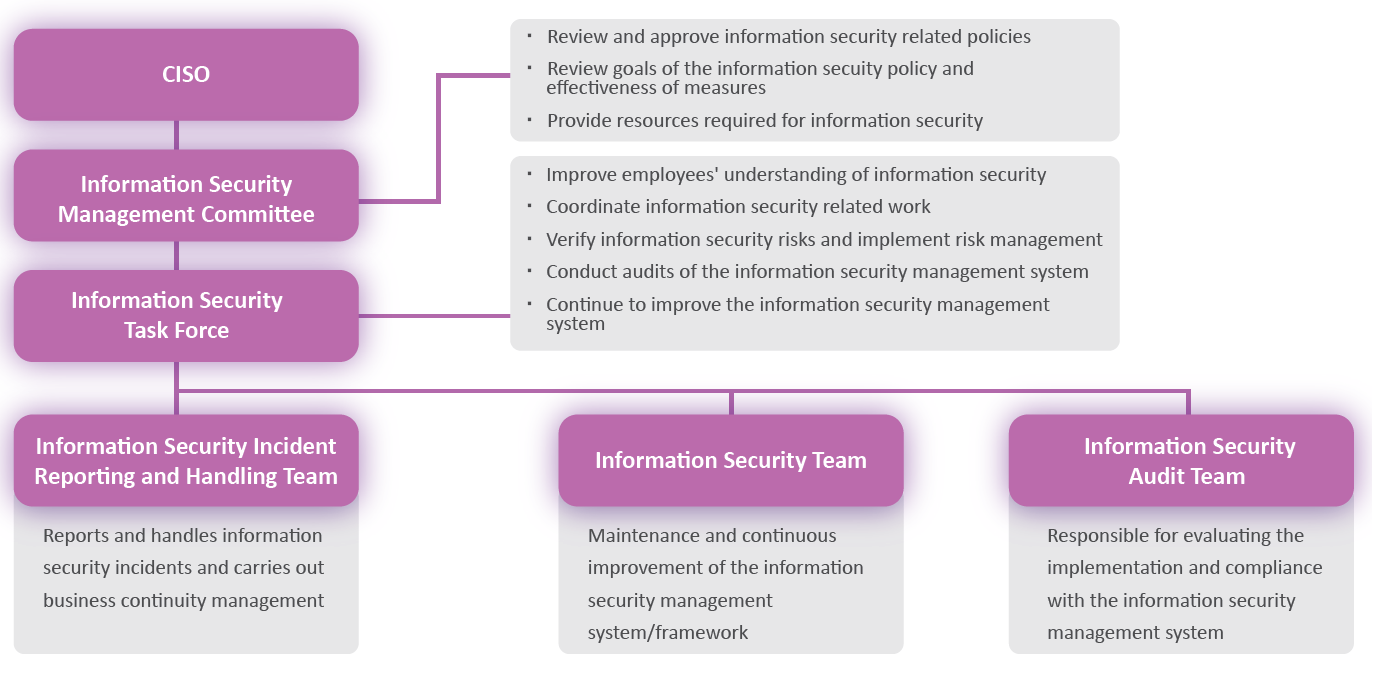 Specific Management Plans
In response to the rapidly changing information security threats, the effectiveness of all plans are validated via the PDCA process, in hopes of preventing and reducing information security incidents.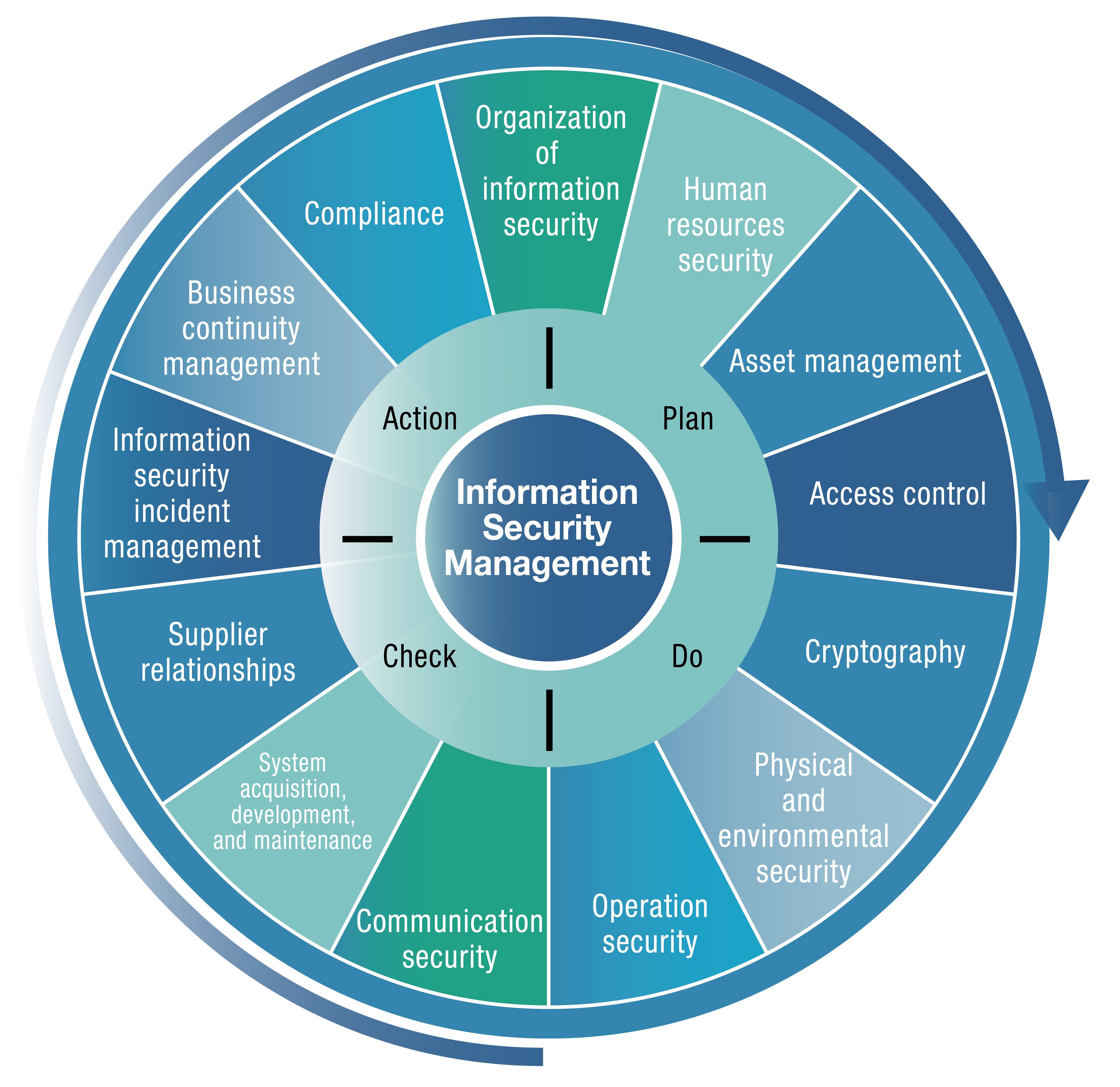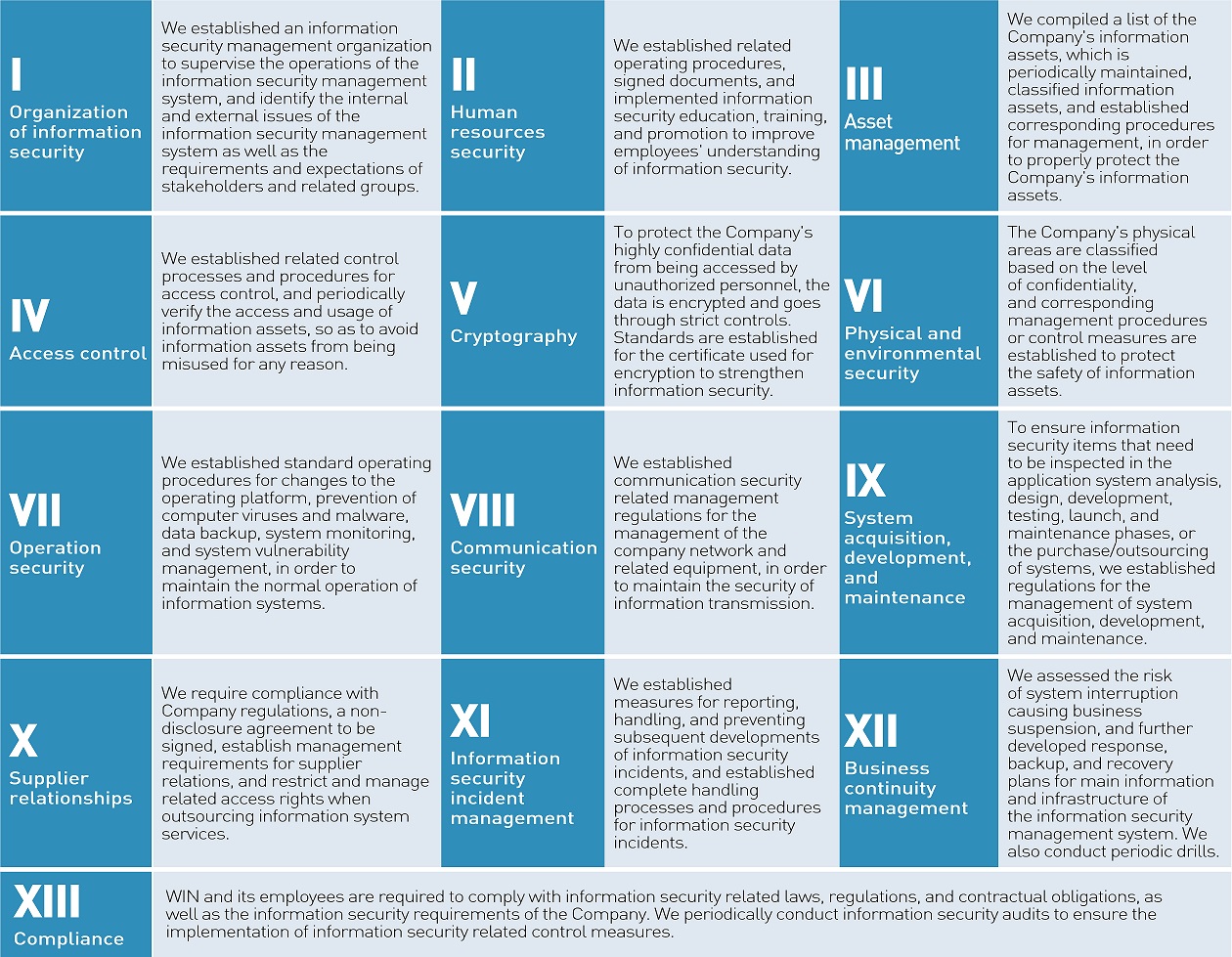 ISMS Certifications
To verify information security policy and specific management plans have been implemented effectively, WIN complies with ISO 27001:2013 standards and audited by external accredited registrar to obtain certification.
IS Certification
ISO 27001 Certification
For more information, please read full article
Download
Organization and
Governance Policy